Student wins Texas Instruments design contest
Adam Munich of Buffalo, N.Y., awarded top prize for improvements to Tesla coil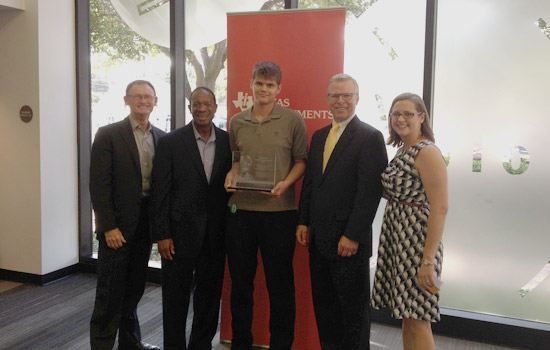 Adam Munich, who is entering his second year as a student at Rochester Institute of Technology, has won the Engibous Prize at the Texas Instruments Analog Design Contest and Summit in Dallas.
Munich was among 450 collegiate participants in the sixth annual contest held last week, which showcases innovative projects by future innovators. For his improvements to the Tesla coil—an alternating current electrical system—Munich was the competition's overall winner, receiving $10,000.
Munich used several Texas Instruments components in his design, particularly comparators, flip-flops and a logic ICs to switch the primary's electrical current at the zero crossing point. The H-bridge that was used is a more advanced solution than a spark gap, for generating the necessary RF field the coil needs.
"I built a solid state version of the Tesla coil, but on a larger scale than most," says Munich, who is from Buffalo, N.Y. "It has an IGBT bridge that is switched in such a way that is almost wholly reactive, preventing power dissipation that would otherwise surely destroy the device. It was a nice surprise though, winning this."
The Engibous contest and associated summit are named after Texas Instruments former chairman and CEO Thomas Engibous. He established the collegiate design competition and summit as a means to inspire engineering students and encourage innovation, says Art George, senior vice president and general manager of Texas Instruments' Analog Engineering organization.
"I'm impressed with Adam's creativity and drive," George says. "Witnessing the spirit of ingenuity he and all of the finalists demonstrated during this competition gives a great view into the exciting ways innovators like these can impact our world in the future."
To some, using equipment with high voltage electrical currents poses a danger. To Munich, a physics major entering his second year in RIT's College of Science, it is an opportunity to learn more about electronics and their capabilities. As for the dangers, he offers this advice: "Just don't touch it while it's on."
"I've been building things for a long time, particle accelerators, X-ray machines, lasers," he says. "It's fun to shoot electrons very fast."