Student Spotlight: Students collaborate to design the new City Art Space downtown
Logan Fugle, Marjorie Henderson, Caitlyn Litaker and Michelle Reuter, fourth-year interior design students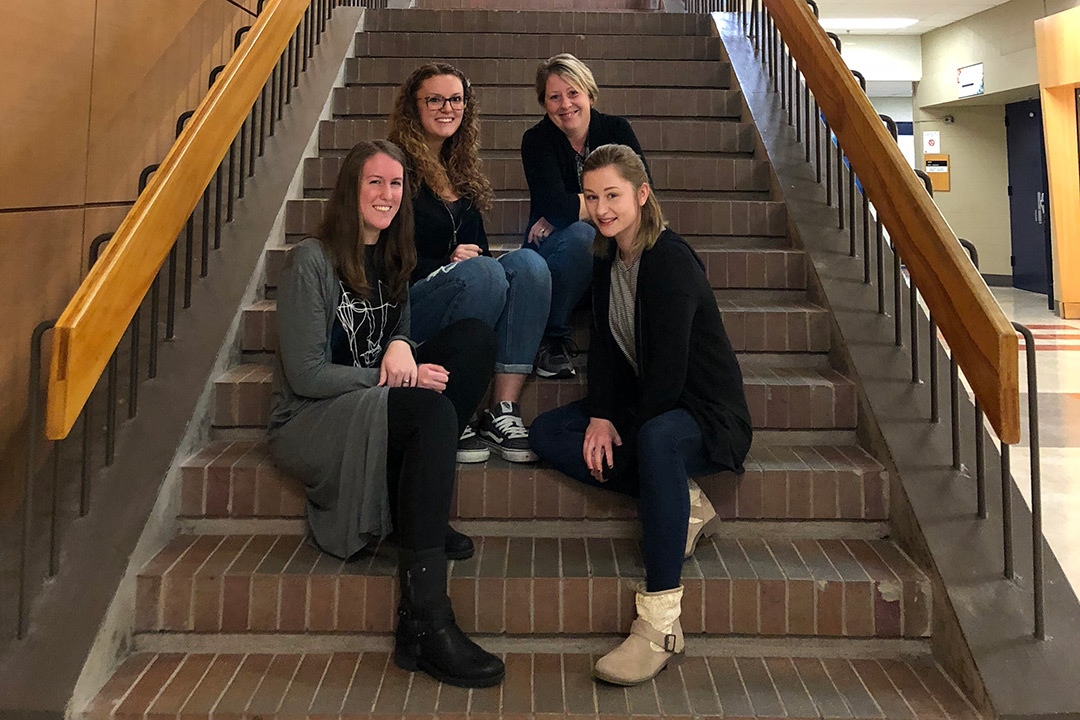 The design for the new RIT City Art Space gallery was created by four RIT interior design seniors: Logan Fugle, from Livonia, N.Y.; Marjorie Henderson, from Honeoye Falls, N.Y.; Caitlyn Litaker, from Nanuet, N.Y.; and Michelle Reuter, from Spencer, N.Y.
Last spring, in a retail and exhibition design studio class, each student created his or her own design for the space. In April 2018, these four students had their designs chosen by John Aasp, the director of the gallery, to be made into reality in the new Sibley Tower gallery. This space will serve as a venue for RIT College of Art and Design students, faculty and alumni—as well as other visiting artists—to display their work.
The gallery began construction at the end of the summer, and the space will officially open to the public on Dec. 7.
Question: What helped inspire your original design for the project?
Answer (Reuter): My individual design was largely inspired by the minds of Massimo and Lella Vignelli. During the conceptual and preliminary stages of the project, I used a lot of their grids to manipulate the odd floor plan of the gallery.
Answer (Litaker): I was inspired by light and how the space would be affected by it. The clients, RIT, wanted the space to remain neutral. So, while using a limited design pallet, I extended my ideas through lighting and creating architectural moments.
Question: Did you enjoy your experience collaborating with other students on the final design?
Answer (Henderson): Designing and collaborating with a group can sometimes be difficult due to different design styles and work schedules, but this project collaboration was enjoyable. We have worked for four years together within this program and it was interesting to see all our plans come together to create the proposed design for this space.
Answer (Fugle): Because we are such a small class, we have all formed a very close bond with each other. Working with Marj, Michelle and Caitlyn was extremely easy. I think we all know each other's strengths and weaknesses, which is what ultimately helped us create a successful plan for the space.
Question: What was the group's process of designing the floor plan for the gallery space?
Answer (Fugle): There were certain areas that were required to be programmed into the space. This included a reception area, private office, a kitchen for events that will require catering, a bathroom, and a large storage area. Once all of that was in place, we got to play around with where the artboards used to pin up artwork will go.
Answer (Reuter): After meeting with John (Aasp) and listening to what elements he liked from each of our designs, the four of us met together and decided to use Marjorie's floor plan as a basis for the plan since he gravitated toward hers the most. Then we added in other elements, like Caitlyn's door to the courtyard, Logan's glazing detail on the interior hall, and my second-floor storage room.
Question: What classes or skills do you feel helped you the most when working on the design?
Answer (Litaker): Knowing how lighting can affect a space was influential to my design process. General knowledge of space planning and building codes, such as the requirements detailed in the Americans with Disabilities Act, were helpful guides in our design process.
Answer (Henderson): Every year, our interior design studios push us to learn new techniques and design strategies. Utilizing these skills and techniques, we create designs with renderings of these spaces to show clients. By repetitively doing this, we have learned to create these designs—complete with plans, materials and images—much more easily and efficiently. 
Question: Was it ever difficult balancing this project with your other responsibilities?
Answer (Reuter): Of course. At the time, I was working on being onboarded at Universal Studios, dealing with phone calls and completing preliminary HR paperwork. I was also getting ready to move to Florida for the summer and finish the rest of my finals. But, honestly, being able to multitask is part of the job. Everything is totally manageable as long as you are organized and balanced!
Answer (Fugle): It's a common misunderstanding that all interior designers do is pick out paint, finishes and upholstery. When in reality, that's only a tiny part of what we do. We are very busy from the start of the semester up until the end. Because of this, I like to think that I have become fairly skilled at juggling many things at once. Being included in this project was definitely a bit of a curve ball at first, but, like I do with all other things, I learned to balance.
Question: What was the most challenging part of working on this design project?
Answer (Henderson): The most challenging aspect for me was the lighting on this particular space. Since the designated gallery space is in a storefront-type location, the natural lighting was difficult to diffuse. To combat this issue, I incorporated large screen shades that double as projection screens over the front windows. 
Answer (Litaker): It was challenging for me to stay within the boundaries of what could reasonably be built for this project. Most of our class projects are open ended and have no clients or budget, so we get to design as we want. However, in this project, we had multiple interviews with people at RIT and site visits that put restrictions on what can and cannot be done. However, that is also the best part of this real-world experience because we got to know what it is like working for clients in the field of design.
Question: How does it feel knowing your designs will be used in the local community?
Answer (Fugle): Knowing that people will be in and out of a space that I helped design is extremely rewarding and something that I don't take for granted. This experience has reassured me that I am on the right path in life. The joy that I get when I think about the public using this space is indescribable. It's a feeling that will drive me to produce my best work at all times so that I'm able to relive that feeling over and over.
Answer (Reuter): It is rewarding to know as a graduating senior that the capabilities of the students in the interior design program are being seen by the community. As a whole, the College of Art and Design has such a talented pool of individuals. It has been an honor to be a part of a project that will righteously give my peers the recognition they deserve.
Topics