Students, community depict ancient story on film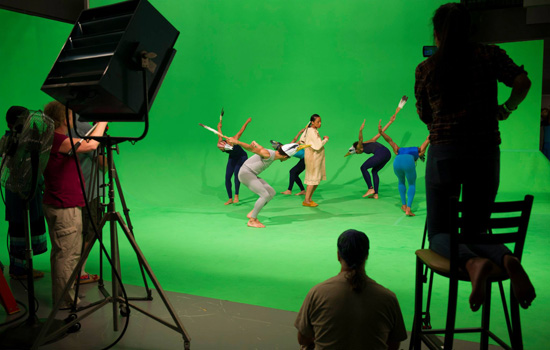 Elizabeth Lamark/RIT Production Services
In what will be the first contemporary interpretation of the ancient Iroquois creation story, RIT students and alumni are working with community partners to combine live action with animation for a film project illustrating a captivating story.
The film interpretation of the ancient "Iroquois Creation Story of Haudenosaunee" people (also known as the Iroquois Confederacy) combines a wide variety of perspectives, talents and abilities of traditional native dancers, modern dancers, filmmakers and animators as well as time-honored Iroquois and contemporary musicians.
The project began in 2013 as a collaboration between The Friends of Ganondagan—which supports the Ganondagan State Historic Site in Victor, N.Y.—the renowned Garth Fagan Dance Company and Cathleen Ashworth, associate professor in the School of Film and Animation (SOFA) and the endeavor's artistic director.
In November of that year, the Max and Marian Farash Charitable Foundation awarded the collaboration a $100,000 "Cultural Creative Collision" grant, which funds projects requiring multiple partners and activities—and that promise intriguing results.
The 16-minute film features animation created by students and faculty in SOFA, combined with dance sections choreographed by Garth Fagan Dance, filmed by RIT students and alumni.
"It is an oral story, told for hundreds of years by the Haudenosaunee people," Ashworth said. Atia Quadri, associate professor in SOFA, serves as technical director.
The story begins in Sky World, where a pregnant young woman falls through a hole and lands on the back of a sea turtle. Later in the legend, twin boys are born who create everything on Earth and battle for control of Turtle Island.
Ashworth applied for additional funding from the RIT Advance Connect Grant and in February of last year received money to hire current students and recent College of Imaging Arts and Sciences graduates to build and design the 3D models of the main characters that are used in the animation. The models and the characters' clothing have been researched for authenticity. The final movie will be a fixture at the new Seneca Arts and Cultural Center opening in Victor this July.
In addition to the world-renowned Garth Fagan Dance Company, the RIT students' experience has included working with Native American artists, dancers and musicians. The film's producer is Seneca artist G. Peter Jemison, director of the Ganondagan Historic Site and a Seneca tribal member. Jemison created the concept drawings for the animators and is the main contact for the film's Native American voice and music talent.
Students also visited Ganondagan to observe Native American artifacts so they can correctly portray them in their animations.
Stephanie Clark, who is in her second year of graduate studies in SOFA, originally worked with Quadri in modeling Sky Woman before shifting to 3D animation and managing social media for the project.
"The process of combining so many different styles and different animation processes has been great to see come together," said Clark, a Chicago native. "Once you hit a large milestone in the film, you sit back and look at it and say, 'Wow, that's awesome. I actually made part of that!'"
The lead 3D animator on the film, Ihab Mardini, a Fulbright scholar from Syria who graduated from SOFA last May, added, "The completed scenes look great, and I can't wait to see the whole film finished."
Neither can Ashworth.
"There are many truths in this story that apply to today's society," she said. "One of the main themes is gratitude, to be thankful for our fortunate position in the universe."
Web extra
For a closer look at the project, go to www.facebook.com/IroquoisCreationFilm.
Topics