Students compete in Macy's Marketing Challenge
Team presented their ideas to company executives in New York City in April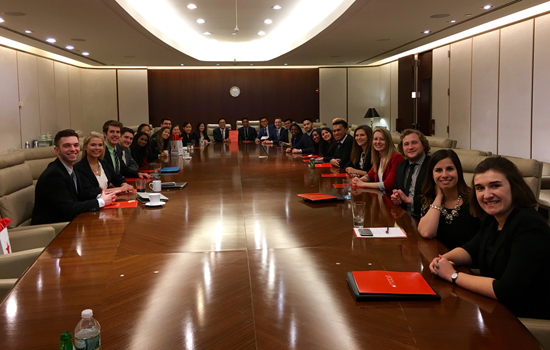 Four Saunders College of Business students at Rochester Institute of Technology created new marketing strategies to attract new millennial customers to Macy's department stores.
The team earned first place for RIT in Macy's Undergraduate Marketing Challenge 2016—winning iPads and an all-expense-paid trip to New York City in mid-April to present their ideas to company executives. The participants are all second-year students from Saunders College: Nicholas Commisso, management information systems from Syracuse, N.Y.; Jacqueline Collelo, new media marketing from Buffalo, N.Y.; Brandon Rall, marketing and international business from Findlay, Ohio; and Christian Vanderhoef, management information systems from Farmington, N.Y.
"We are so proud of our student team representing RIT so well," said Saunders College Dean Jacqueline Mozrall. "Being part of the millennial generation, they clearly have the advantage of knowing what's hot, and what's not, in retail because of their strong social media skills, which can influence the online purchasing power for stores like Macy's."
Commisso said Macy's hosts a marketing challenge every year to help them restructure and better plan for the future of their sales. "Our goal was to rebuild Macy's brand image geared towards millennials and we came up with multiple ideas with the main ones being a sizing application, subscription based box and the way they present these ideas when advertising."
RIT was one of six participating schools including University of California-Berkeley, University of Pennsylvania, University of Wisconsin-Madison, University of Arizona and George Washington University.
"Saunders represented Saunders very, very well, and the Macy's executives seemed very excited and intrigued," said Commisso. "We competed against some well known business schools—but at the end during our presentation, we knocked it out of the park, off the chains and into the water. It was a major stepping stone for us as a team."