Students curate exhibit on individualized education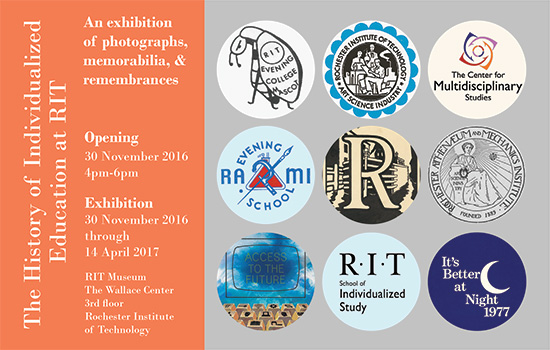 An exhibition chronicling more than 100 years of individualized education at RIT will be on display on Nov. 30 in the RIT Museum.
The exhibit, titled "Charting One's Course: The History of Individualized Education at RIT," is a joint effort among the School of Individualized Study, the museum studies program, RIT Alumni Relations and RIT Archives to curate a collection of artifacts that tell a wider narrative of RIT's individualized education programs, which date back to the 1880s. Through historical photographs, memorabilia and remembrances from the RIT Archives Collections, the exhibition aims to demonstrate the ways in which these programs have fostered community among past and present students. A digital timeline created by students from RIT's museum studies program accompanies the exhibit.
Juilee Decker, a professor in the museum studies program at RIT, led a class of 18 students in curating the exhibit and developing a storyline. Decker said that the project was unique because the students were building the timeline by taking relevant materials from several RIT collections and combining them to create the first history of individualized learning.
"The students faced a challenge with this project because they had a lot of room to work independently to create meaning. It wasn't black and white, and a different student looking through the same set of objects might have found something totally different to be interesting," Decker said. "That was the beauty in it."
Hannah Barber, a fourth-year museum studies major from Pittsford, N.Y., was one of the students in Decker's class who worked to curate the exhibit. Barber said that projects of this nature provided a great hands-on experience for students to have.
"I've had internships before, but as an intern you don't typically get a lot of archival experience because there is less trust in your ability," said Barber. "With this project, we were given so much responsibility. It was practical work that helped to strengthen skillsets that internships may not have covered."
The School of Individualized Study, formerly called the Center for Multidisciplinary Studies, provides degree programs designed to help students be innovative and have a voice in their own degree curriculum, rather than limiting study to a single academic program. An opening reception for the exhibit will be held from 4 p.m. to 6 p.m. on Nov. 30 on the third floor of The Wallace Center. The exhibit will remain on display through April 14, 2017.
"Doing research like this helps to connect students to their university and to students of other times," said Decker. "We're really proud of the work that's been done, and we're excited to be able to share it."