Students design billboard to help "pay it forward"
Saunders College of Business class partners with Lamar Advertising on Dream Factory project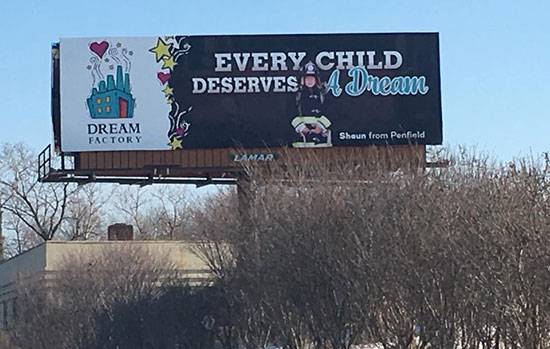 RIT student Sarah Johnson has a lot to be thankful for, including her health. And a class offered through Saunders College of Business has allowed Johnson the unique opportunity to "thank" a favorite charity using a billboard high above Rochester.
Johnson and her student teammates in the Advertising and Promotion Management course won a class competition to conceptualize and design a billboard for The Dream Factory, a local nonprofit agency that helps dreams come true for children living with critical or chronic illnesses. The billboard was donated by Lamar Advertising and can be seen on I-490 East in downtown Rochester. Two additional billboards were designed by students to promote Lamar Advertising. Those can be seen on I-490 East, near The Strong National Museum of Play, and East Main Street and Richmond Street, not far from Memorial Art Gallery.
As a child, Johnson was diagnosed with Type I diabetes, and in 2014, she and her family were treated to a once-in-a-lifetime experience in Hollywood, Calif., funded by The Dream Factory of Rochester.
"Ever since that trip, I have always wanted to return the favor. And this was my chance," said Johnson, a third-year advertising and public relations major from Rochester, N.Y. "I went to a Dream Factory meeting to tell them that they would be getting a donated billboard designed by RIT students and they were overjoyed."
The Dream Factory billboard features 12-year-old Shaun from Penfield, N.Y., who also has Type 1 diabetes and lived his dream of becoming a firefighter and EMT with the Ridge-Culver Fire Department for a day.
Deborah Colton-Hebert, an associate professor in Saunders College of Business, taught the class and connected the students with Lamar Advertising. In fact, Colton-Hebert regularly provides her students with projects that are often implemented by real companies, instead of "asking the students to design arbitrary marketing materials that go nowhere."
"My goal for this hands-on project was to allow students to understand the process behind developing an ad or billboard. This includes using their marketing and communication skills and taking time to understand one's audience and what that audience might respond to," she said. "All of the students used 'out-of-the-box' thinking to promote and advertise the brand. And of course, an added bonus was the opportunity for our students to 'pay it forward' and do something meaningful for a local charity."
Topics