April 5, 2021
by Rebecca DiPaola and Nicole Saunders
Students Design a Promotional Campaign Across Multiple Media Channels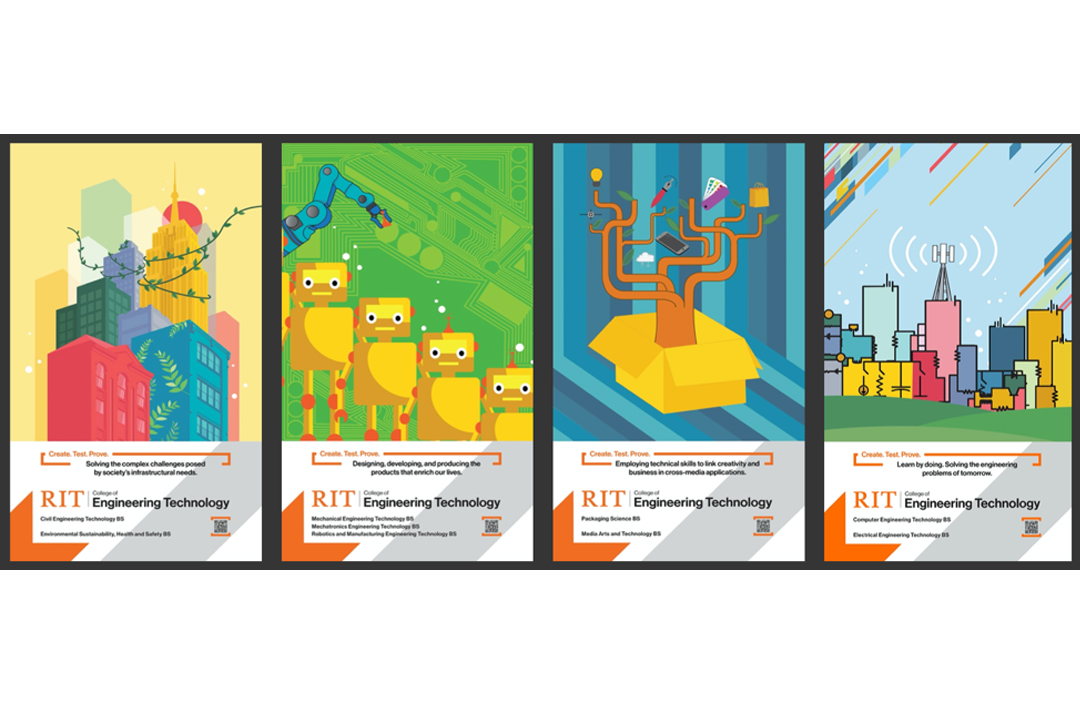 Students in RIT's media arts and technology program designed a promotional campaign to raise awareness of the undergraduate programs in the College of Engineering Technology. 
In the fall of 2020, students enrolled in the program's Team Project course used the skills they learned in their last three years of program to create an interactive, cross-media project that consisted of four distinct posters and an Instagram guide. The purpose was to attract prospective students and raise awareness of the college's majors.
"This class allowed us to have the real-world experience of working with clients" said Nicole
Saunders, a student involved in the project. "We had the opportunity to create something for a larger audience than just our classmates seeing it."
The primary objective of this project was to create a cross-media campaign that included print and social media. The print component consisted of four posters, each represent different departments of the college. The digital component consisted of a style guide for use in creating Instagram content and video creation.
Students worked in teams and focused on the design, social media, and print production. With the additional use of remote collaboration tools such as Slack and Google Drive the class was able to help each other with the different needs of the project.
The print posters will be mailed to perspective students. The Instagram guide will help direct more efficient use of the college's Instagram channel to better aid in student recruitment, engagement of prospective students, and general awareness of the college's programs and accomplishments.
A core component of the program is the team-based project, which serves as a capstone experience for students completing their degree. The student-teams are able to use this experience as a culmination of the skills they learned through the program in managing and  dissemination content across multiple media platforms, including social media, web, mobile, and print.  It also enables students to work with a real-world client, from conception through delivery, of a project that addresses a real-world concern.
 "Not only was this project unique by working with clients, but we had to work with providers. It wasn't seeing our own vision into the poster but the client's views, said Saunders. "It was a fantastic class to end the major with because this is what we will have to do in the future."