Students experience Dubai's luxury properties
Annual travel for RIT's hospitality students includes Dubai and United Arab Emirates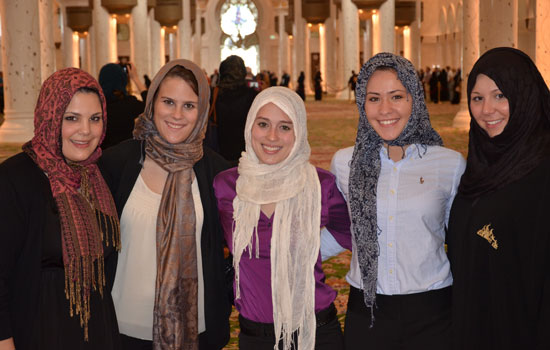 Danielle Sanderson tried snowboarding in the most unlikely of places this winter—Dubai.
She and her 12 classmates spent a week in the country known more for its desert temperatures than snow. It was part of an annual study abroad program sponsored by the School of International Hospitality and Service Innovation at Rochester Institute of Technology.
During a whirlwind of visits to world-class luxury hotels, businesses and tourist sites, the group met with general managers and human resource executives from places such as the Burj Khalifa and the Palm Jumeirah development. It is a chance to learn first-hand what it takes to manage some of the most prestigious and valuable properties in the world.
One of those properties was Ski Dubai, a large-scale winter wonderland of activities.
"I absolutely loved Dubai and snowboarding at Ski Dubai! I'm so thrilled that I got the opportunity to do that and I can't wait until I'm able to go back," says Sanderson, a second-year student from Livonia, N.Y. "As far as the demands and service of the industry, there seemed to be a lot. There is a lot of care and regulation that goes into a place like Ski Dubai. Everything was carefully thought out and planned, even the placement of TVs, and how they added 'zorbing' and tubing to the skiing to appeal to a larger audience. Having an indoor mountain in extreme heat temperatures isn't easy and needs to be managed daily."
At 6 degrees Celsius, she was also surprised by how cold it was in the facility that is the length of three football fields.
"It was like being in Rochester," she says with a laugh.
The annual trip is part of a hospitality and service management class, led by Rick Lagiewski and Warren Sackler, both faculty in the program, based in RIT's College of Applied Science and Technology. The learning experience is as much about a new culture as it is about service management in the tourism industry, Lagiewski says.
"Dubai and the United Arab Emirates, as a whole, provide the perfect case for students to understand luxury service and the type of management systems needed to deliver it," he adds.
Both faculty members prepare the students for an immersion in a culture that many have not experienced before. The trip was more than eating different foods and bartering in the souk, or marketplace. It was about understanding the people who lived in the country, says Danielle Fanara, a fourth-year student from Buffalo, N.Y.
"For me the head coverings that the women wear, it meant oppression. That's what I thought," she says. "I didn't know the culture. But going there, learning about this, and seeing the women—they did everything, they went to the malls, to restaurants. Why did I let a scarf define this?
"I know more what it means now," she adds. "I was able to go, learn and be more aware."
During the week they were also able to observe and talk to service staff preparing for the Dubai Classic, the international golf competition under way, to enjoy a rise-and-shine tour in the desert, camel rides, authentic Bedouin meals and adventures in the souks, the marketplaces of Dubai and Abu Dhabi.