Students help build photonics ecosystem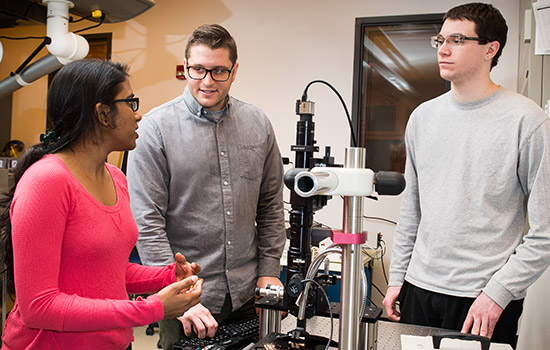 Research at RIT
Rochester is making an impact in photonics manufacturing, and RIT is playing a central role as a key partner in AIM Photonics, a national manufacturing initiative expected to stimulate economic development and global competitiveness.
Photonics is an intricate science about harnessing the power of light. RIT's numerous experts are contributing to photonic device manufacturing, industry assessment to improve workforce training and education, and device packaging and assembly solutions—all critical areas necessary for the growing photonics ecosystem.
RIT students are a big part of that system, creating photonics devices and solutions in classes and through research projects that will also become foundational materials to help train others for an industry expected to transform manufacturing.
"Photonics is the future," said Sanjna Lakshminarayanamurthy, a microelectronic engineering graduate student from India. "I do live in the present, but we need to have an eye for the future. I know I can contribute; I felt this work would bring out the best in me."
Lakshminarayanamurthy was one of 20 students taking Photonic Integrated Circuits, an upper-level course, delivered by Stefan Preble, associate professor of microsystems engineering in RIT's Kate Gleason College of Engineering, and several other faculty this past spring. Focused on learning the overall photonics manufacturing process, students designed a prototype photonics chip where laser light is precision-placed onto silicon.
"All the courses I took in microelectronics helped me in the clean room to work on this project. We tried different chemistries we had not used here before," she said. "Silicon photonics is just growing, and it can be compatible with the existing integrated circuit process."
Lakshminarayanamurthy helped define the preparation, etching steps and processing necessary to fabricate chips. Her project information will be integrated into the curriculum RIT is helping develop for AIM Academy, the educational arm of AIM Photonics. She will also use this knowledge in her new position as a process engineer at Global Foundries in Albany.
Once an optical fiber is aligned to a feature on silicon, the challenge becomes holding that fiber in place, protecting it during testing before packaging and assembly. Keyla Bastardo-Ramirez works closely with Martin Anslem, director of the Center for Electronics Manufacturing and Assembly, to produce solutions that ensure manufacturing processes are efficient, cost effective and sustainable. Her literature review on fiber attachment challenges, current solutions and those being developed is extensive. It also highlights the need to develop novel research programs that can eventually bridge the gap for adopting photonics integration technology in high volume production applications, she explained.
"When I started my master's degree in manufacturing and mechanical system integration, I already had experience working in manufacturing firms, not in the electronics industry, but I was already fascinated with manufacturing processes of any kind," said Bastardo-Ramirez, who is from Santo Domingo, Dominican Republic. "I would like to continue working on developing this technology in industry or in academia."
Industry will need students like Bastardo-Ramirez, who will be entering the photonics workforce once she graduates in December. Other workforce needs—from entry-level positions to research and development—are being assessed through the Photonics and Optics Workforce Education Research (POWER) group, founded by Ben Zwickl and Kelly Martin, both assistant professors in RIT's colleges of Science and Liberal Arts, respectively. POWER's research is on skills needed for photonics and optics; the group explores how academia and industry define, perceive, influence and value STEM workforce development.
Alexandria Cervantes, an undergraduate on one of several projects within the research group, did in-depth interviews with managers and new hires from local companies as well as graduate research assistants at universities. Preliminary data revealed that supplementing current technical coursework with communications and interpersonal skills can benefit all students in STEM programs to better prepare them for success in their respective fields. Cervantes' study was part of the Research Experiences for Undergraduates, where undergraduates from RIT and other national universities can apply for directed projects related to their degree programs and interests. Her work, titled, "Values and perception of communication in photonics and optics," and featured at this summer's Undergraduate Research Symposium, will become part of POWER's contribution to AIM's comprehensive workforce needs assessment studies.
Students are involved in many more projects related to photonics technology and education, and their work will reap dividends, not only for AIM Photonics, but for their own careers.
RIT's role
RIT's photonics connections include several multidisciplinary research labs and project teams:
About AIM Photonics
The American Institute for Manufacturing Integrated Photonics is part of the federal government's National Network for Manufacturing Innovation. Created in July 2015, it is run by a consortium of 90 university, government and corporate partners, led by SUNY Polytechnic, RIT, University of Rochester and MIT.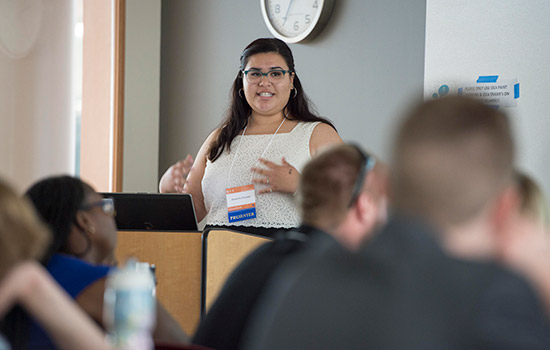 Elizabeth Lamark
Topics