Student's Paper on Heat Transfer Technology Takes Top Honors
Dwight Cooke receives accolades from the American Indian Science and Engineering Society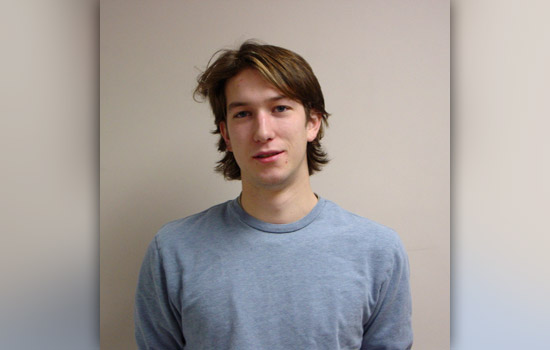 Dwight Cooke, a graduate student in the Kate Gleason College of Engineering at Rochester Institute of Technology, won the top award for his research paper at the recent American Indian Science and Engineering Society Conference, held this year in Albuquerque, N.M. It was the second time his work on heat transfer for electronics cooling received the designation at the national conference.
Cooke made a presentation based on his paper, "Pool Boiling Heat Transfer Over Micro-grooved Surfaces." In it, he evaluated silicon chips with different surface geometries and tested them under boiling conditions to look at how effective they are at heat transfer.
"It was really surprising to win for a second year," says Cooke, who won in the graduate student category. "Last year they had awards for just an overall graduate presentation, but this year it was categorized between master's-level and Ph.D.-level presentations."
The conference hosts Native American, First Nations, and Native Hawaiian students from universities around the country to highlight their academic achievements in science, technology, engineering, and mathematical disciplines and to encourage their growth as future leaders of tribal communities. This year, more than 1,800 students participated.
"What was really nice was being able to go to the conference with the other students in RIT's chapter and the faculty advisers from the Future Stewards Program. We were able to meet other students from different schools, and I realized that through the Future Stewards Program, RIT has more outreach for Native Americans compared to other universities," says Cooke, who is a St. Regis Mohawk Tribe member who grew up in Castleton, N.Y. "We recruit students from the high school level, but also have the Native American Advisory Council, which puts in place a framework of cooperation between the leaders of the Haudenosaunee nations, state government officials, and President Destler."
Cooke has been an active member of the research work done at the Thermal Analysis, Microfluidics and Fuel Cell Lab in the engineering college since 2007. He began as a co-op student working with Satish Kandlikar, professor of mechanical engineering and one of the foremost researchers in fuel-cell technologies.
"I work on heat transfer analysis for chip cooling," Cooke explains. "I had a co-op in the lab as an undergraduate, and was working on fuel cells, but now my thesis topic is about maximum heat transfer and boiling properties. Studies like this one are most important for people researching electronic chip cooling, but boiling also has other applications for nuclear power generation and even inkjet printing."
Over the summer, Cooke joined Kandlikar at the 8th Annual International Conference on Nano-channels, Micro-channels and Mini-channels in Montreal and co-presented "Pool Boiling Heat Transfer and Bubble Dynamics Over Plain and Enhanced Microchannels."
"Dr. Kandlikar has helped me to produce a conference paper as well as a journal paper out of my research," says Cooke. "My plan is to finish my thesis and graduate at the end of the winter quarter."
NOTE: More information about Cooke and the work being done in the Thermal Analysis, Microfluidics and Fuel Cell Lab can be found at the RIT Showcase stories webpage.
Topics