Students set to return to Microsoft after co-op
Student Spotlight Daniel Jost, fourth-year game design and development student Brandon Littell, fourth-year game design and development student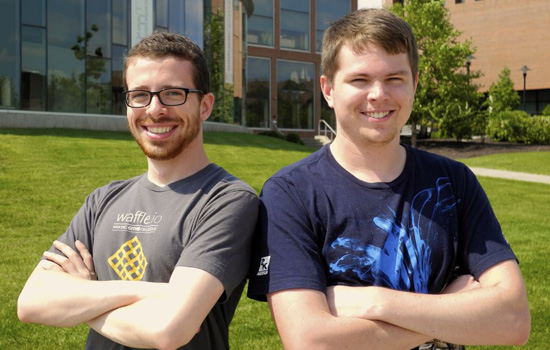 Derrick Hunt
Daniel Jost and Brandon Littell, fourth-year game design students, worked summer co-ops for Microsoft at its headquarters in Seattle. After graduating in December, both students will be returning to Microsoft in full-time positions. Outside of their schoolwork, Daniel and Brandon are members of codeRIT, a hackathon organization, and Circular Studios, a game development studio they co-founded. Daniel is a native of Kirkwood, Mo., while Brandon is from Gibsonia, Pa.
Question: What brought you to RIT?
Daniel Jost: A solid game development program and the school culture. When I first visited RIT I knew I had found a place that I would fit in and make lasting friendships.
Brandon Littell: I heard about RIT in ninth grade from a graduating senior who was about to leave for RIT. The school sounded like a great place to be with an intelligent community. The next year I visited campus and knew immediately that I wanted to attend.
Q: Why did you choose to major in game design and development?
Brandon: I had a passion for technology and games from a young age, so the opportunity to work on games as a job really excited me.
Q: How did you land your co-op at Microsoft?
Daniel: A recommendation from Brandon got the ball rolling. My interviewers found my involvement in the open source community as well as my work with games to be good enough to take a chance on me.
Q: What did you work on?
Daniel: I was a Web developer for the Administrator Console in Windows Intune. Intune is a computer and mobile device management package for companies to manage their employees' machines, and my efforts were aimed at improving the administrator experience.
Brandon: I worked in Operating Systems Group for the summer. The larger team I was placed on has previously handled the development of the user interface for Windows.
Q: What is the RIT community like at Microsoft?
Daniel: It felt like it was kept under wraps, but I met people from RIT everywhere I went. I think we're slowly going to take over the entire company.
Q: What do you like the most about Seattle?
Daniel: The area feels like an extension of the culture I love at RIT. Plus, it feels like they built the area around nature rather than trying to overrun it.
Brandon: The scenery around Puget Sound is beautiful. Towering mountains, massive lakes, and the Space Needle come together to create some epic views.
Q: How did your co-op prepare you for graduation?
Brandon: The real-world experience gained on co-op is invaluable. It's something you can't get from class alone, and helps with the transition into a professional career from student life.
Q: What are you most excited for about graduation?
Daniel: Getting to work at Microsoft! This is the kind of opportunity you don't ever think will happen going into school, and I am excited to start that phase of life.
Brandon: Being able to look back on my time at RIT and tell people that I'm a Tiger.
Q: What have been some of your best memories from your time at RIT?
Daniel: Last semester a group of six students created an open source game engine, Dash, while a group of eight that I led created "Spectral Robot Task Force," a turn-based strategy game built with Dash. We called ourselves Circular Studios, and that group offered me the most rewarding work I've done at RIT. Getting to work with people who have developed specialized skillsets offered all of us the opportunity to bring forth something bigger than I had imagined possible in a semester of work, and I can't wait to see what we can do with one more semester left.
Brandon: Seeing Macklemore & Ryan Lewis and starting a weekly Ben & Jerry's meet up.
Q: Do you have a favorite place on campus?
Daniel: Go get a Tiger (a sandwich now listed as a Mascot) from the Ritz Sports Zone. Why RIT doesn't lather all their food with Tiger Sauce I will never know.
Q: How would you sum up your years spent at RIT?
Brandon: A controlled whirlwind of work and fun, topped off with more Ben & Jerry's than I should admit having. The past few years have been among my favorites.
Q: What will you miss most about RIT after graduation?
Brandon: The crazy amount of cool projects always being worked on. Innovation is truly one of RIT's most special attributes and is something I will miss seeing on a daily basis.
Daniel: Tiger Sauce.
Derrick Hunt compiles "Student Spotlights" for University News. Contact him at djh9758@rit.edu with suggestions.