Students spend break helping refugees in Rwanda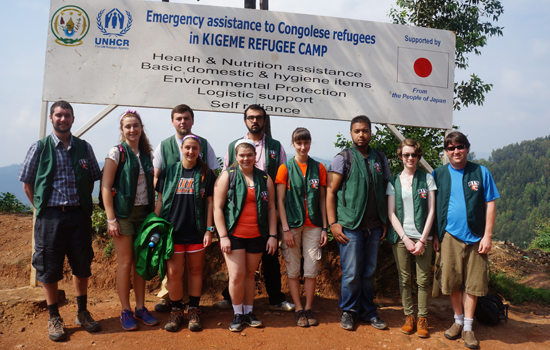 Kristine Liotta spent winter break visiting a Rwandan refugee camp to collect data points on a GPS.
Now back in class at RIT, the second-year electrical engineering major is using that data to create maps that can help improve the lives of refugees and refugee camp organizers in Rwanda.
Liotta was one of nine RIT students from different majors who traveled to Africa in January for a 2 ½-week intersession study abroad. The visit was part of a spring course aimed at giving students the experience and skills using mapping technology to address real-world issues, including climate change and refugee affairs.
"This was different than other study abroad trips because it's more about service learning," said Brian Tomaszewski, an assistant professor in RIT's Department of Information Sciences and Technologies, who led the trip. "We are doing something interactive with the people of Rwanda and making a difference."
Working with the United Nations High Commission for Refugees (UNHCR) Agency, the RIT group was given access to the Kigeme refugee camp—home to more than 18,000 who fled fierce fighting in the Democratic Republic of Congo. Built on terraced hills in southern Rwanda, the camp lacks the basic reference data needed to provide good maps for workers and residents.
"We take for granted that we have Google Maps for getting around and finding places in Rochester," said Tomaszewski. "Without good maps it can be hard for residents and workers to find water, first aid care or other things that they need to live."
During daylong trips to Kigeme, the group collected point-based data on the camp's latrines, schools, roads, medical facilities and topography. Students also met with UN workers and camp residents to learn what life is like at Kigeme.
For Claire Finnerty, a second-year biomedical and public policy double major, the trip was a chance to learn about geospatial information systems, and to briefly explore Africa, as she contemplates joining the Peace Corps.
"The trip helped me gain a new perspective on the world and provided me with a skill set in mapping technologies that I could use to inspire policy changes," said Finnerty, a Greece, N.Y. native.
Now back at RIT, the group meets as part of the Honors Information Technology Seminar: Global Issues and Geographic Innovation spring semester course.
The class is using data collected to create paper maps and Web tools, and adding the data to OpenStreetMap, a free editable online map of the world. If time permits, the class will create an offline Android app that camp workers can use on a tablet.
Liotta is taking the course to fulfill her immersion and the clean and renewable energy option of her degree. Plus, she always wanted to study abroad.
"Traveling to a country as diverse as Rwanda is going to affect how I view and develop energy sources in the future," said Liotta, who is from Albany, N.Y.
Tomaszewski, who specializes in geospatial technologies, has traveled to Rwanda 10 times in the last three years, as part of research funded by the United Kingdom Department for International Development.
"The more I keep doing these trips, the harder it is to come back to Rochester," Tomaszewski said. "I hope to continue offering trips and interactive classes like this again in the future."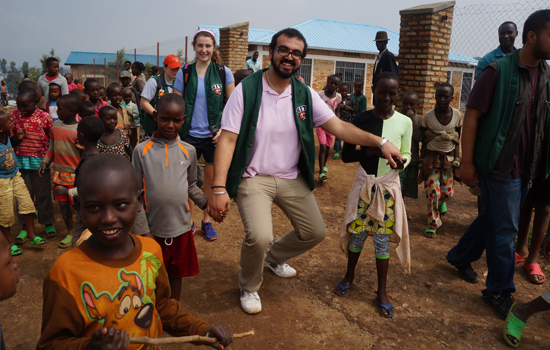 Brian Tomaszewski