Student's video game competes in Intel Showcase
'Gibraltar,' created by student John Miller, showcased at Game Developers Conference in San Francisco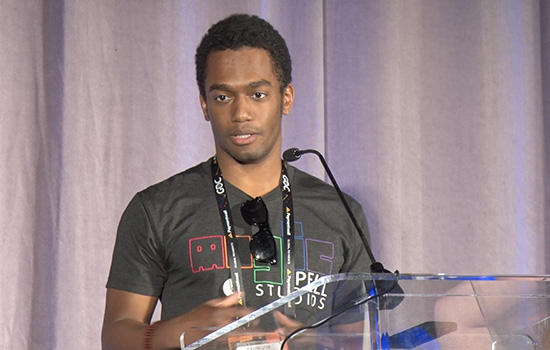 Rochester Institute of Technology made a strong showing at the 2017 Intel University Games Showcase on March 2 where student John Miller presented his video game, Gibraltar, in front of students and faculty from the top game developer academic programs in the United States. Although Miller's game wasn't selected as one of the top finishers during the event, which was part of the 2017 Game Developers Conference in San Francisco, Gibraltar was prominently featured on the expo floor at the MAGIC Spell Studios booth where the country's best game designers and developers were able to play the game and provide valuable feedback.
"We look forward to the Intel University Games Showcase each year," said Jennifer Hinton, chief communications officer for RIT's MAGIC Spell Studios. "The showcase is an opportunity for us to come together as a university community of educators with the shared goal of mentoring and supporting our students, who are the next generation of our industry. Regardless of the outcome, we celebrate their innovative and creative spirit and enthusiasm for creating games."
During the Intel University Games Showcase, students present their games live to a panel of judges made up of game industry luminaries and an audience of game industry professionals, as well as fellow students and faculty.
Miller, a third-year game design and development student from St. Louis, began developing Gibraltar during his senior year in high school after years of drawing characters and worlds on paper and teaching himself basic programming and game design using books given to him by his parents. According to Miller, Gibraltar—a fast-paced, territory-focused, turn-based tactics game—was inspired by Advance Wars and Hearthstone, and Go, a Japanese board game, and was created as "simple entertainment that creates a cool, intellectual experience for the user." Gibraltar was also a national finalist for Microsoft's annual Imagine Cup student competition in 2016. For more about the game, go to the "Video Game 'Gibraltar' to represent RIT in Intel University Games Showcase at GDC 2017" video page.
More than 100 RIT students, faculty, alumni and staff traveled to San Francisco this past week to attend GDC, the world's largest professional gaming industry event of the year. The conference, which ends today, is a key learning and networking opportunity for both aspiring and professional game developers. Students attending the event had access to hundreds of lectures, panels, tutorials and discussions by gaming industry leaders. GDC's expo floor featured recruiters from virtually every major gaming company, providing developers with their first look at emerging industry software and technology.