April 17, 2014
by Marcia Morphy
Students' website design wins award from RBJ
Health care provider received Rochester Business Journal's Best of the Web Award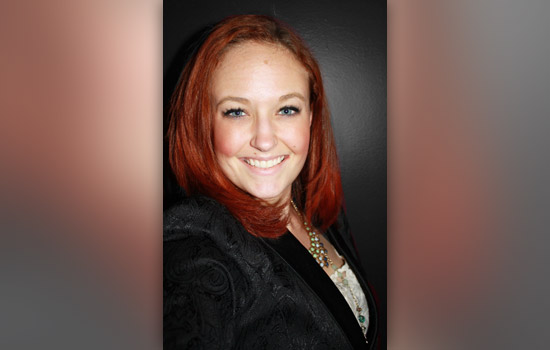 Adriana Boveda-Lambie, assistant professor of marketing at Saunders College of Business, is always looking for local businesses to participate in her class projects.
"I believe it is a good learning experience for the students and a way for Saunders College to give back," said Boveda-Lambie. "Brian Wirth, the director of CURE Childhood Cancer Association, contacted me and needed marketing help, so I didn't think twice about adding him to my class on advertising and promotional management."
The result was a winning website for CURE that earned Rochester Business Journal's Best of the Web Awards in the health care category. The RBJ announcement of award winners of best business websites took place on April 9 at the Hyatt Regency Rochester.
The CURE website was created by two RIT new media design students, Carolyn Spencer from Webster, N.Y., and Gregory Watson from Rochester, N.Y.
"I designed the mock-ups for the CURE website for Brian and he loved them so much he wanted to implement them immediately," said Spencer, who says she is a self-taught Web designer. "I designed the front-end, the visual side of the website, and Greg completed the back-end, the implementation side. We both worked on the copy as we had the analytics and understanding to use certain words to aid with organic searches—so the searches were optimized."
Spencer will be inducted in the Alpha Sigma Lamda Honor Society when she graduates this May, and she says she has interviewed for three potential job opportunities—"Intuit in San Diego, where I did my co-op, Apple in Los Angeles, and Facebook in Austin, Texas."
"I was extremely excited to hear about the award CURE received—it was an affirmation of what I was learning in class and what I knew based on industry standards and trends, that I could help to create a great website."
Note: One of nine colleges at RIT, Saunders College of Business is accredited by the Association to Advance Collegiate Schools of Business International (AACSB International) and enrolls more than 1,200 undergraduate and graduate students. Saunders College and its entrepreneurial Venture Creations Incubator work in partnership with RIT's Albert J. Simone Center for Student Innovation and Entrepreneurship to integrate business education with RIT's world leading technical and creative programs. Graduate programs include Master of Business Administration, MBA-Accounting, Executive MBA and master's degrees in finance and administration.