Successful alumna most proud of mentoring role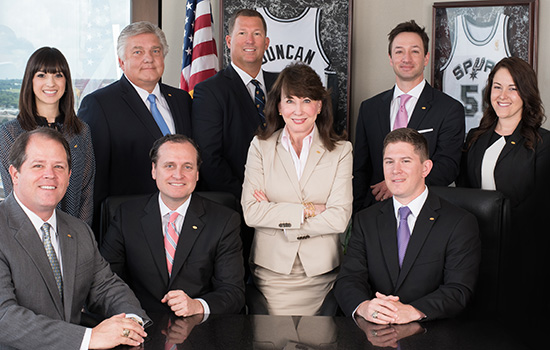 Linda Hummel '71 (fine and applied arts) didn't think much at the time that she was one of few female senior leaders in the banking industry in Texas in the 1980s.
But looking back now, the self-described workhorse realizes that the experience not only paved the way for others but opened a door for her with the San Antonio community.
"I was never that impressed with it at all," said Hummel. "People would say to me, 'My goodness, look at what you have accomplished.' I'm thinking it has been so much fun it never felt like work—ever—to me."
Hummel moved to Texas in 1973 to pursue a career in advertising with the Pitluk group, which was the largest advertising agency of its kind in South Texas. She learned there that she enjoyed the business aspect of the account manager job more than the graphic arts aspect.
After a two-year stint with Trinity University in the community and development program, she entered the banking business, first with First City Bancorporation, where she worked as a vice president, and then the San Antonio Savings Association, where she was a senior vice president of retail sales and marketing.
At the time, she was on a lot of community boards, including the board of Humana Women's and Children's Hospital. In 1990, she was recruited to join Humana as an associate director for the health plans. It was a big job because Humana was going through the transition of divesting itself from hospitals.
"That was a huge challenge," she said. "When I joined the company I thought, 'What have I got myself into?' It ended up being a very gratifying experience."
Hummel worked with Humana for 23 years, working her way up to president of the employer group division for Humana Texas. In 2008, Hummel was named Texas Business Woman of the Year by the Women's Chamber of Commerce of Texas.
Then three years ago she was recruited to join the privately-held company SWBC, which is headquartered in San Antonio. She is chief executive officer for the SWBC Employee Benefits Consulting Group.
"At this stage of my career, where do you have a chance to redefine who you are and bring up a team and operate autonomously," she said about her role at SWBC. "It's just a dream come true for someone with my background."
Hummel said she is most proud of her role as a mentor and the impact she is having on future business leaders. She is enjoying her position so much that after 45 years in the workforce, she has no plans to slow down.
"I would never have thought in a million years starting out that my career would have taken this turn, but it has and I'm very grateful," she said. "It has been a lot of fun."