Summer construction projects underway at RIT
Roads, crosswalks, roofs and renovations being done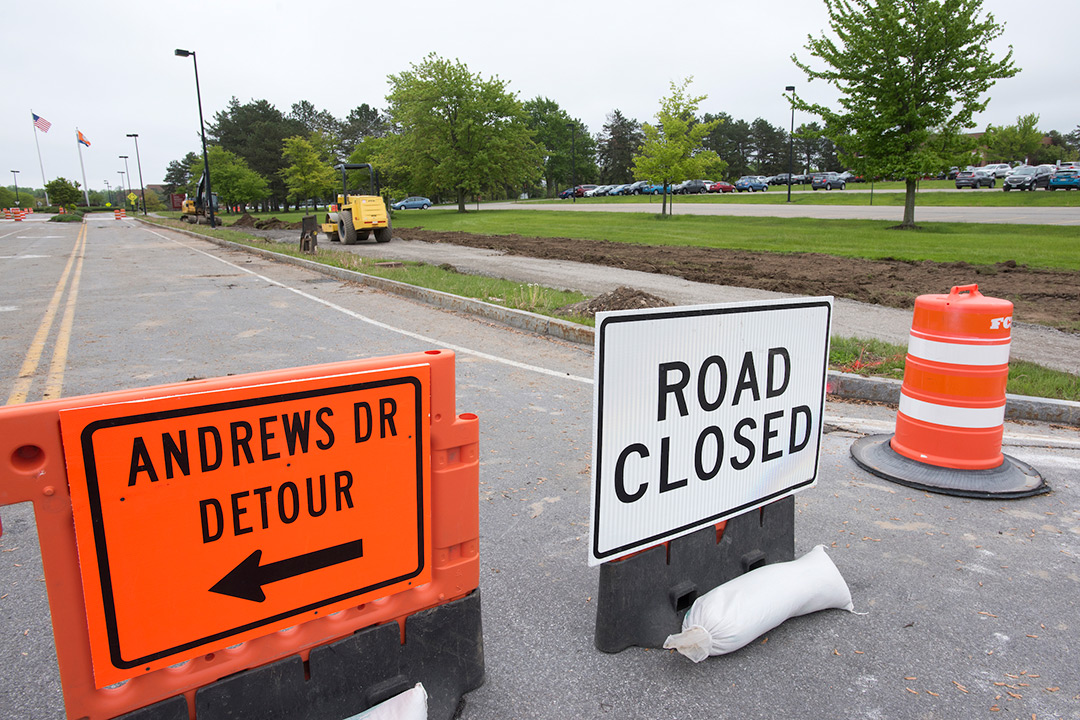 A. Sue Weisler
Several construction projects are underway on roads and buildings on the Rochester Institute of Technology campus, as workers take advantage of the summer weather.
Current projects include the second phase of a three-year "active transportation improvement" initiative as curbs, speed bumps and sidewalks are reconfigured to improve safety and traffic flow, said Paul Drozdziel, director of RIT's construction services and project management.
"We want to make the campus safer for pedestrians as well as skateboarders, bikers and drivers," he said.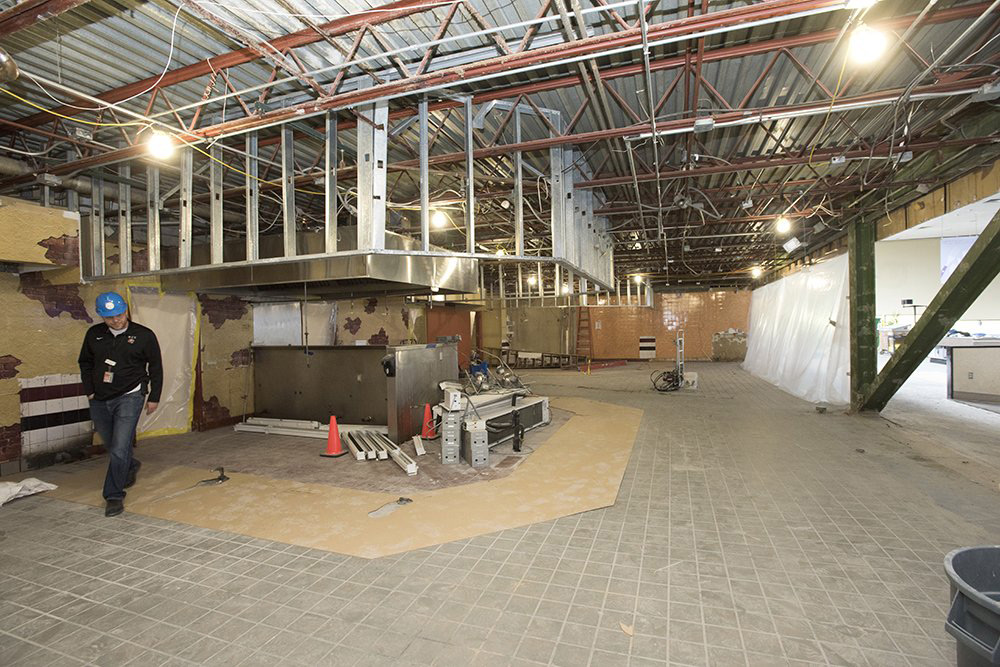 A. Sue Weisler
One of the largest projects in a campus building this summer is at Gracie's, RIT's biggest dining facility. Gracie's, in Grace Watson Hall, remains closed until mid-August as renovations – from floor to ceiling – are being done in the kitchen and serving area, and a new pizza oven installed. Drozdziel said the two-year project will resume next summer, when the seating area will be renovated.
In May, RIT sold Colony Manor to Christa Construction, which plans to demolish the buildings this summer to build a 938-bed housing facility called the Apex, with five- and six-story buildings, a pool, common areas and green space. The project is expected to be completed for the 2021-2022 academic year.
Other major projects include:
Andrews Memorial Drive: A raised crosswalk is being added near F Lot and the walkway is being paved.
Farnum Road: In an effort to improve safety and make the area more pedestrian friendly, a new sidewalk has been constructed paralleling the road. The road itself has been widened as well. Curbing has been installed and improvements are being made at the intersection of East River Road.
Perkins Road: A heated bus shelter will be installed at John Street, and improvements will be made to the road.
Wiltsie Drive: A county project closed Wiltsie Drive last summer. It was reopened last fall, but closed again recently for road reconstruction and safety improvements. Expect to see wider sidewalks, better lighting and curbing on the north side of the road. Completion is expected in mid-August.
August Center: Entrance renovations are being done, a skylight is being replaced and repairs are being made to the roof. Anyone needing access to Wellness, Counseling & Psychological Services, the Student Health Center, Substance and Alcohol Intervention Services for the Deaf or RIT Ambulance should use the entrances on the south side of the building, near the parking area. Completion is expected by mid-August.
Gannett Hall: New heating and air conditioning units are being installed.
Global Cybersecurity Institute: Construction begins this summer on the cybersecurity building, to be built onto the Golisano College of Computing Information Sciences building. Construction on the foundation and the steel work should be completed this fall, when the 45,000-square foot, three-story addition will be enclosed.
Liberal Arts Hall: Completion of a two-year project wraps up this summer to waterproof the building and make structural repairs. Walkways will be replaced on the north side of the building. Completion is expected in mid-August.
Lyndon Baines Johnson Hall: A major roof project that began last year continues until the end of June. Also, bathroom renovations, including new toilets and tiles, are being done to make them more accessible.
Riverknoll: One building on the south side of the complex is being used as a prototype to transform its appearance to make it look more like the buildings in nearby Global Village. The interior of the building will also be updated, making it more accessible. Completion of the prototype is expected in the fall.