Sustainability Institute Hall marks milestones
Fuel cell connection and green wall installation help ready building for April 12 dedication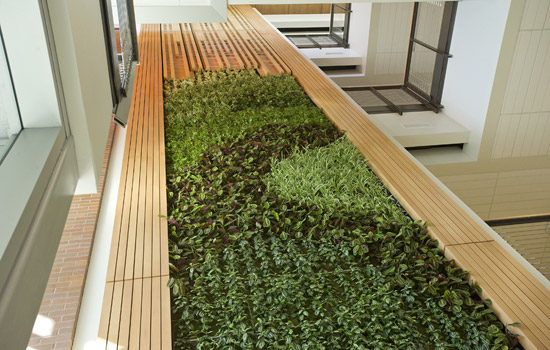 As the new building for Golisano Institute for Sustainability nears next month's dedication, the world-class building likened to "a living lab" reached two more important milestones March 7 with the connection of the fuel-cell power unit and the installation of the nearly 40-foot-tall green wall.
While the fuel cell plays a vital role as the 84,000-square-foot Sustainability Institute Hall's primary energy source, it was the arrival of the massive sections of green plants that drew crowds and even spontaneous tours on Thursday, according to Nabil Nasr, assistant provost for academic affairs and director of GIS.
"People were very excited to see the green wall go up … it's extremely impressive," Nasr says. "There has been a lot of anticipation for its arrival, and now that it is here, you can really see and understand why."
The massive green wall spans 8 feet wide and 38 feet tall near the building's west entrance, containing 1,776 green plants that contribute to air quality as well as aesthetics.
Meanwhile, after making primary connections of the UTC Model 400 Purecell System to the building's microgrid, workers will bring the fuel-cell power source fully online over the next couple of weeks, according to Nasr.
The fuel cell—partial funding for which was made possible by a New York State Energy Research and Development Authority incentive to its manufacturer, United Technologies—produces 400 kilowatts of continuous electric power. In addition, heat generated as a by-product of electrical generation will help warm Sustainability Institute Hall and other buildings on the RIT campus. Any excess electricity goes into the campus grid. The fuel cell will contribute significantly to the building's energy efficiency, which is expected to be more than 50 percent higher than a conventional structure. It also significantly reduces the building's emissions.
"Innovation through public-private partnerships is critical to Governor Cuomo's vision for the state's energy future. NYSERDA is proud to partner with the Golisano Institute for Sustainability and UTC Power in support of the purchase of advanced fuel cell technology that will assist in lowering the greenhouse gas emissions of this extraordinary facility," Francis J. Murray Jr., president and CEO, New York State Energy Research and Development Authority.
The microgrid system will take variable power inputs from all sources—including the building's vertical wind turbines near the entrance as well as its solar panels—and will store energy in a battery bank to provide 50 kilowatt-hours of power. This will power some of the building's lights and electrical outlets as well as charging stations for electric vehicles. Microgrid technology is a research area at GIS.
Sustainability Institute Hall was designed and built to exceed Leadership in Energy and Environmental Design (LEED) Platinum standards of the U.S. Green Building Council—the highest standard that can be achieved.
The building's ribbon-cutting and dedication is scheduled for noon Friday, April 12.
The Golisano Institute for Sustainability was established in 2007 with a $10 million gift from Paychex Inc. founder and philanthropist B. Thomas Golisano. It houses one of the world's first Ph.D. programs in sustainable manufacturing and industrial development, as well as master's degrees in sustainable systems and sustainable architecture. The Institute conducts leading research in alternative energy, remanufacturing, nanotechnology and sustainable production.
Partners and affiliates include Staples Inc., Caterpillar Inc., Eastman Kodak Co., Xerox Corp. and Rochester Midland Corp., with program support from the Henry Luce Foundation.
Topics