Sustainable journey: Engineering's influence in the developing world
Engineering students engage in work with Haiti's infrastructure development teams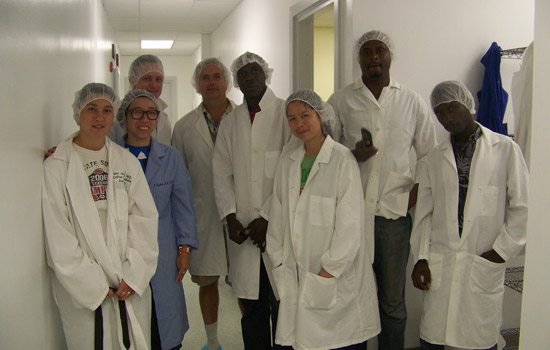 Sarah Brownell
Traveling to Haiti, the engineering students carried project ideas and clarinets.
Over 10 days in August, RIT graduate engineering students participated in current infrastructure projects under way in Haiti. It was part of Engineering and the Developing World, a graduate-level course about designing sustainable systems beneficial to the people, businesses and economies of the developing world.
For Sarah Brownell, a lecturer in the Kate Gleason College of Engineering, it was a return visit to the island where she had worked as one of the co-founders of the non-profit organization Sustainable Organic Integrated Livelihoods, also referred to as SOIL.
For Brownell's graduate students, Darinee Narimarnkarm, Kim Hunt, Ricki Pavia and Shwe Sin Win, it was a first-time visit to the island that continues to rebuild after the 2010 earthquake and this summer's Tropical Storm Isaac.
Short-term travel but long-term impact
Brownell and Brian Thorn, associate professor of industrial and systems engineering, co-taught the graduate course in spring quarter and led the optional excursion to Haiti this summer. The group met with representatives of SOIL to learn more about its sanitation and agricultural projects. They also met with other local organizations to identify potential projects that could be supported through future undergraduate senior design and graduate capstone projects.
"This aspect of the trip was very successful, and some work is already under way," Thorn says. "We are putting together a sustainable engineering capstone team that will be working on a project for Dr. Pat Wolff, founder and executive director of Meds & Food for Kids."
This nonprofit group uses local labor and raw materials to manufacture nutritional peanut-based foods to reduce malnutrition. Students will help the organization identify more effective approaches for dealing with a contaminant that sometimes affects the Haitian-grown peanuts used in the process, Thorn explains. This would allow Meds & Food for Kids to use more locally-grown peanuts, which will benefit the local farmers. Economically, it would serve to increase product output while reducing costs, an added benefit for parents and children who rely on the products.
"The students were able to see what it's like to have the experience of developing and manufacturing a product in a developing country," Brownell says. "I think they wanted to see what constraints there are and how they can design better with them in mind."
Making personal connections
In a country where more than half the population lives in poverty, even fewer of its citizens have access to treated water or functioning sanitation. The students realized some drawbacks in establishing one of their project plans for a sustainable sanitation system.
"Originating from a developing country myself, I feel like I was reliving the vivid images with my local Burmese people when I was there," says Win, who moved from Burma (now called Myanmar) to Singapore at age 18. "I knew I wanted to serve my country and its people but I also realized that it would not happen if I stayed on, as many aspects of my motherland deteriorated greatly due to rampant corruptions after 1988.
"Hospitality, friendliness and warmth are the three impressions about Haiti that left an imprint on my heart," says Win, who intends to return to Singapore, and eventually Myanmar, to work as an environmental consultant. "From a country of poverty to a country with abundance, environmental issues concern everyone as global residents."
Despite challenges brought on by Mother Nature, few resources and a wavering economy, Haiti has many friends like Brownell, Thorn and the students who are willing to lend a hand. The trip was also a chance to help deliver donations from several community organizations in Rochester, including a much-anticipated care-package of musical instruments for a scouting troop intent on starting a band.
"Mainly I was just hoping to inspire the students to be interested in being social entrepreneurs or social innovators, using part of their time as an engineer to do things for the global community," Brownell says. "I think the students are open to that, and if they understand there are ways to do it, then they are more likely to make it happen."
Funding to develop and deliver the Engineering and the Developed World course and to conduct the field trip in Haiti came from a donation to the engineering college from the Gleason Foundation, long time benefactors of the university and the namesake of its Kate Gleason College of Engineering.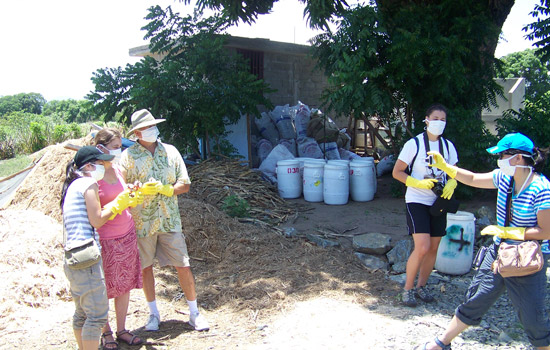 Provided by Kim Hunt