Swiss designer to visit RIT
The artist will discuss his fusion of analog and digital techniques for letterpress-printed posters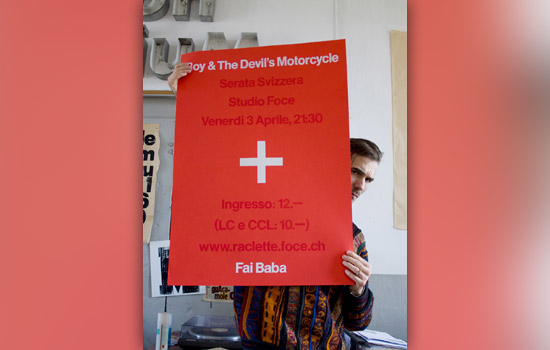 Laser cutters, pantographs and letterpress printing presses are just a few of the tools Swiss graphic designer Dafi Kühne uses to produce one-of-a-kind poster designs. The artist will visit Rochester Institute of Technology to discuss his unique fusion of digital and analog techniques as well as his first book, True Print, published earlier this year by Lars Müller.
The talk and interview will take place at 5:30 p.m. Wednesday, May 3, at the Cary Graphic Arts Collection on the second floor of The Wallace Center. The event is free and open to the public.
Kühne pushes the boundaries of design by fusing time-tested analog printing methods with the endless possibilities that digital design tools provide. "The computer definitely has some advantages because it is always precise," said Kühne. "For me—being a child of the digital culture—it is really interesting to work with manual and analog techniques because you have to work hard to make something precise. Then you start questioning whether it has to be precise or not. It slows down the process but makes you ask so many more questions. This is a creative booster for me."
Prior to starting his business as a graphic designer, Kühne studied visual communication at the Zurich University of Arts. He learned letterpress printing techniques while completing an internship with Hatch Show Print, the famed print shop in Nashville, Tenn. Kühne now owns a design and letterpress printing studio named babyinktwice.
When designing posters for musical artists, Kühne emphasized that it is important to communicate "a sense of the mood and what the concert is about. You don't have to like the music necessarily, but you have to get into the music and get the feeling of it."
Kühne will have copies of his posters and book on display and for sale following the interview. Registration for the event is not required, but those interested in participating are encouraged to register via the Facebook event page at https://www.facebook.com/events/592667297589898/