Take the plunge into the Tiger Tank
Entrepreneurship competition invites students to create unique and impactful products, services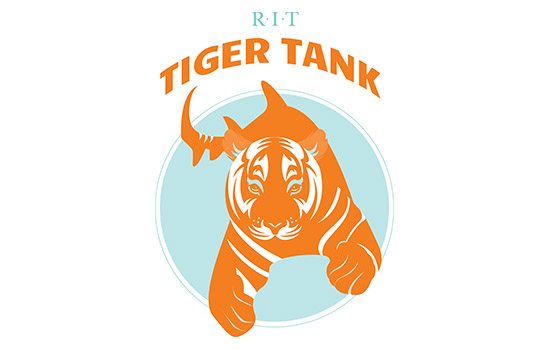 Five teams of student entrepreneurs at Rochester Institute of Technology will pitch their business ideas to a panel of Rochester-area investors on April 6 in hopes of launching their products or businesses.
RIT's Tiger Tank competition will be held at 5:30 p.m. Wednesday in Ingle Auditorium, in the university's Student Alumni Union. The five student teams—selected from more than 60 that submitted proposals—will compete for a chance to win $4,750 in cash prizes and up to $160,000 in scholarships for graduate studies at RIT's Saunders College of Business.
The team finalists for the competition, hosted by the Albert J. Simone Center for Student Innovation and Entrepreneurship, are:
AWARE—a fatigue detection and alert system designed to combat drowsy driving. The system uses video-based monitoring of a user's head position, eye movement and blink rate to detect physiological signs of fatigue.
Band Toy—a series of interactive instruments designed to stimulate the senses of children with low motor coordination skills through the use of textures, sounds, vibrations and light patterns.
Chemistry for a Cause offers targeted molecular imaging agents designed for photoacoustic imaging— an inexpensive and non-invasive method for the detection of cancer.
Intelli-Thread—a tool designed to aid in the inspection of tapped holes, or holes produced with a thread in the side of the hole, and uses a consistent force to rotate the gauge the same every time.
Wind-on-Water (WoW) Energy Systems provides renewable energy and sustainable services to any location that has an offshore body of water large enough to fit its platform. The company harvests wind energy and can be coupled with multiple alternative energy systems such as solar photovoltaics, fuel cells, and/or water desalinization systems.
"The RIT Tiger Tank focuses on students' early-stage products or services with foreseeable commercial impact," said Richard DeMartino, director of the Simone Center. "We want our students to submit products that are unique, fill a gap or solve a problem. We also ask them to identify their target market and what value their product will bring to their lives. This event is a way of building an entrepreneurial spirit, and also helps us find innovative ideas."
For information, go to https://www.rit.edu/research/simonecenter/ or contact Rupa Thind at rupa.thind@rit.edu or 585-475-7487. For details on the Tiger Tank Challenge scholarship contest rules, go to http://saunders.rit.edu/ttc.
Topics