Talk show host Tavis Smiley headlines MLK event
NPR talk show host leads program that includes community panel discussion of 1964 Race Riots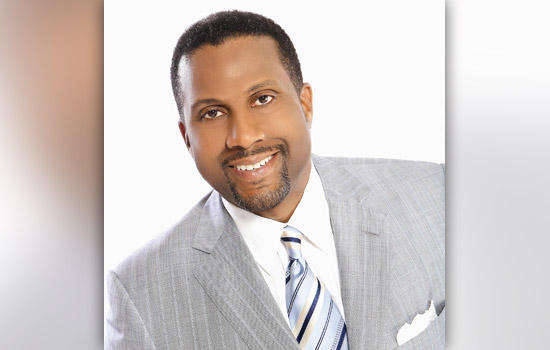 Tavis Smiley, national talk show host, author and community advocate, will be the keynote speaker for the 2014 Expressions of King's Legacy Celebration at Rochester Institute of Technology. The event takes place from noon to 2 p.m. Thursday, Jan. 30, in RIT's Gordon Field House and Activities Center. Doors will open at 10:30 a.m.
Registration is required for the event and can be done online. General admission tickets costing $1 per individual and $25 for groups will be needed for entry into the field house on the day of the event. Group tickets must be purchased prior to Jan. 22. (The minimal cost will be used toward printing and mailing tickets to guests, according to event planners.)
Smiley has been named one of the 10 most influential people by Time Magazine. His Tavis Smiley daily radio show is in its 10th year on PBS, and as its host, he is an outspoken advocate for racial and gender equity. He will touch upon these topics as part of his keynote address at RIT.
Joining Smiley for the Expressions program will be Curtis Babers, a fourth-grader from Houston, Texas, who won the 2013 Gardere Martin Luther King Jr. Oratory Competition. The 11-year-old impressed event judges with his speech "If you could talk to Dr. King," that focused on the importance of education, making positive choices and encouraging others to succeed. Also performing will be RIT poets Alexis Harris, Lakeishia Brown, Michelle Sason, and local singer Whitney Morrison.
"We are always looking to present speakers and programs that will resonate with the community and be relevant to their experiences," says Kevin McDonald, RIT's vice president for diversity and inclusion. "We chose Tavis Smiley this year because in addition to his keynote address, he will moderate a panel men and women from the city of Rochester who were connected to the 1964 riots, and who will discuss the state of race and ethnicity 50 years after this significant event."
The community panel discussing the 1964 Race Riots in Rochester takes place at 6 p.m. Thursday, Jan. 30, at East High School, 1801 E. Main St. The event is free, but registration is required as there is limited seating in the high school's auditorium.
Additional commemorative events include RIT's Gospelfest at 7:30 p.m. Friday, Jan. 30, in Ingle Auditorium in RIT's Student Alumni Union. Tickets for the event are $5 for college students with ID, $10 for RIT faculty/staff and $15 for the general public. On Saturday, Feb. 1, the university will host a Harlem Renaissance-themed evening of music and poetry at 6 p.m. in RIT's Student Alumni Union, Al Davis Cafeteria. Featured performers are nationally-known Def Poetry artists Alysia Harris and recording artist Dwele. The latter event is free and open to the general public.
Expressions of Kings Legacy is coordinated by RIT's Office for Diversity and Inclusion and supported by campus and community partners.
Note: For additional event information, go to the RIT Diversity and Inclusion website or email mmmpro@rit.edu. Tickets are available online, by calling the Gordon Field House Box Office at 585-475-4121 and at the Gordon Field House Box Office. Delivery fees apply for online and phone orders.
Topics