Team spends winter break helping refugees in Rwanda
Group uses mapping technology and economic surveys to study life in refugee camps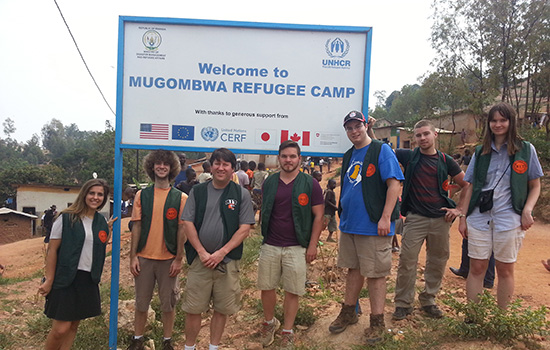 A team of RIT students and a professor spent their college winter break collecting GPS data points and conducting economic surveys for the United Nations High Commissioner for Refugees (UNHCR) at refugee camp in Rwanda.
Back in class at RIT, the team will use that data to create maps that can help improve the lives of refugees and refugee camp organizers in Rwanda.
Six RIT students from different majors traveled to Africa in January for a 2 ½-week study abroad. The visit was part of a spring course aimed at giving students the experience and skills using geographic information systems (GIS) mapping technology to address real-world issues, including climate change and refugee affairs.
"This was different than other study abroad trips because it's more about engaged scholarship and service learning," said Brian Tomaszewski, an associate professor in RIT's B. Thomas Golisano College of Computing and Information Sciences, who led the trip. "We are doing something interactive with the people of Rwanda and Congolese refugees to make a difference."
Working with the UNHCR Rwanda office and the Rwandan Ministry of Disaster Management and Refugee Affairs (MIDIMAR), the RIT group was given access to the Mugombwa refugee camp. The camp, located in Rwanda, hosts nearly 9,000 refugees from the Democratic Republic of Congo (DRC), who fled due to fierce fighting. Mugombwa lacks the basic reference data needed to provide good maps for workers and residents, who need to navigate the infrastructure and businesses of the camp.
"We take for granted that we have Google Maps for getting around and finding places in the U.S.," said Tomaszewski. "Without good maps it can be hard for residents and workers to find water, first aid care or other things that they need to live."
In addition to mapping during daylong trips to Mugombwa, the group also conducted economic surveys on the businesses run by refugees and employment conditions in the camp. The purpose of these surveys was to inform longer term strategic planning for refugee livelihoods in terms of giving refugees cash for food. Students also met with UN workers and camp residents to learn what life is like at Mugombwa.
"As someone who's concentrating his studies in geographical information systems, this trip allowed me to apply what I've learned in class to a real-life situation," said Brendon Strowe, a second-year web and mobile computing major from Sparta, N.J. "I also learned and took away an appreciation for the luxuries that we have growing up in the U.S., but also that those folks living in refugee camps are humans just like any other."
The interdisciplinary RIT student group included Strowe; Sophie Rabb, a third-year international studies major from Phoenix, Ariz.; Nathanael Thomas, third-year computer engineering major from Wales, United Kingdom; Colum Cross, a third-year human centered computing major from Albany, N.Y.; Kevin McGraw, a fourth-year mechanical engineering major from Syracuse, N.Y.; and Angelina Konovitz-Davern, a third-year museum studies major from Buffalo, N.Y.
Now back at RIT, the group will meet as part of the Honors Information Technology Seminar: Global Issues and Geographic Innovation spring semester course.
The class is using the data collected to create paper maps, web tools and adding the data to OpenStreetMap, a free editable online map of the world. Additionally, the students will conduct an analysis of the economic data collected and provide research reports back to UNHCR and MIDIMAR.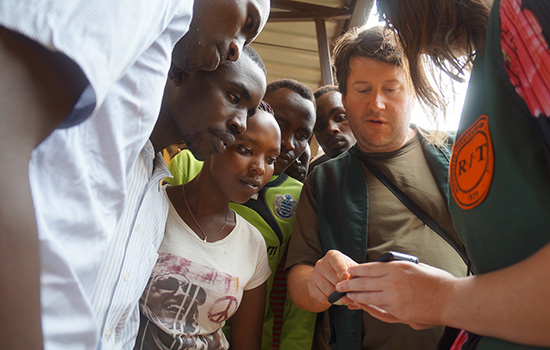 Topics