Technology in fast gear at GIS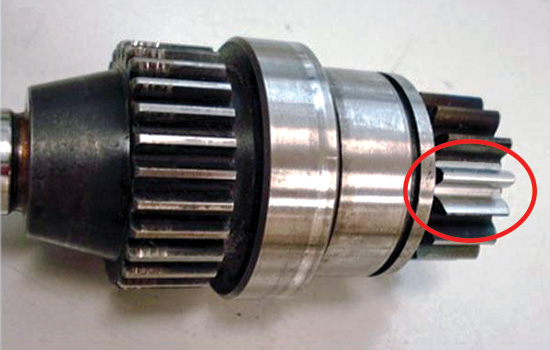 When a Rochester-area manufacturer experienced a broken gear shaft on a 1960s German-made machine whose parts have been long unavailable, RIT's Golisano Institute for Sustainability came to the rescue with a unique additive manufacturing solution.

GIS researchers teamed with Hansford Parts and Products, a precision machine shop in Macedon, N.Y., to employ a hybrid laser engineered net shaping (LENS) process that additively deposited material onto the surface of a steel gear shaft that had five broken teeth.

The process simultaneously employs both additive and subtractive manufacturing techniques in a traditional computer numerical control (CNC) machining center.

"Traditionally, that part would have had to be recycled and become scrap metal," said Mark Walluk, an engineer at RIT for 10 years.

Bob Krochmalech, Hansford's vice president and chief operating officer, said alternative methods would have taken far longer and proven more costly.

"We would have had to identify more time-consuming and costlier ways to make our custom cutters," he said.

According to Walluk, the Optomec LENS printer at GIS—one of the first installations of its kind three years ago—is optimized for enhancing and repairing metal components like the Hansford gear shaft.

The printer's high-powered laser builds structures layer-by-layer directly from a "recipe" of powdered steels, metal, alloys, ceramics or composites, resulting in a range of benefits including reductions in manufacturing and materials costs, process times and environmental impacts.
"Using the 3D printing capabilities available here at RIT, we were able to fix those gear teeth and have Hansford's machine back in use in a fraction of the time," Walluk said. "We can do in hours what traditionally can take days or even weeks."

Krochmalech called the 3D printing project with GIS "a complete success" and added "our machine is working great and back making our cutters."

"I believe in the near future, most if not all prototypes will be 3D printed in the manufacturing arena—even in the smallest shops," Krochmalech predicted. "Additive manufacturing is instrumental in the reusing and remanufacturing of parts, and saves raw metal and energy resources for a more 'green' solution. It's changing the way we look at manufacturing and engineering components in the future."

Walluk agreed.

"We can certainly replicate the 3D printing solution we developed for Hansford's gear shaft in future applications," he said.