Ten RIT faculty to watch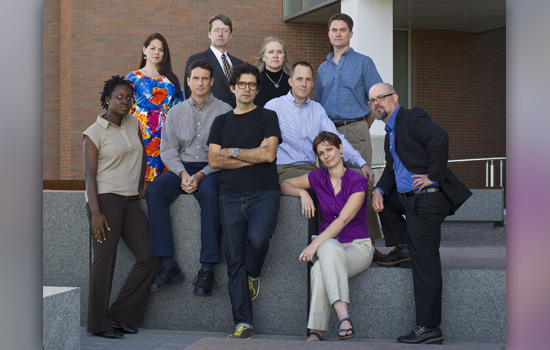 A. Sue Weisler
They're regarded as campus trendsetters, pushing the boundaries of their personal and professional potential. These 10 faculty to watch make learning, research and innovation come alive; they engage and challenge students in new and exciting ways; and they cultivate mentoring relationships with the ultimate goal of student success.
Callie Babbitt
Golisano Institute for Sustainability
Growing up in Perry, Fla., Callie Babbitt witnessed firsthand the tension between a desire to safeguard the environment and the economic potential associated with industrial growth.
When a female chemical engineer from her community's pulp-and-paper mill spoke at Babbitt's seventh-grade career day—describing how her career combined math and science with problem solving—Babbitt, assistant professor at the Golisano Institute for Sustainability, knew she had found her life's passion.
Babbitt's experience in middle school, also demonstrating the influential role women can have in attracting female students to engineering careers, put her on a path toward RIT and industrial ecology. And today, Babbitt is a powerhouse, raising more than $1 million in sponsored research funding.
"I'm proud that my research awards have involved interdisciplinary collaboration with other departments," she said. "The sustainability challenges facing society are complex and will require the combined knowledge and innovations that come from disciplines working together."
Bill Brewer
College of Health Sciences and Technology
Bill Brewer, director of exercise science, is a health-care visionary with his sights set on the day when physical fitness and health care integrate. He wants to see a health-care system that helps people get in shape before the heart attack, the stroke, the onset of diabetes—not after a major health crisis.
And the exercise science program he's helping to create at RIT will position students to become the executors of this vision.
"There is more to exercising than meets the eye," said Brewer."Getting fit is not just about looking good; it's about achieving and maintaining good health."
He's looking to physicians to refer patients with poor health stemming from inactive lifestyles to fitness specialists who will design, implement and assist with an exercise plan.
"Enhancing fitness, while reducing risk of disease and infirmity, must become a focus of our developing health care system, and health/fitness specialists, like our students who will fulfill that role, will undoubtedly play a critical role in this health-care evolution."
Geraldine Cochran
College of Science
Diversity and representation in science and mathematics drive Geraldine Cochran's research. The two intertwine: diversity brings as many perspectives to the table as possible; representation ensures seating for team members representing different perspectives.
"My interest is preparing future physics teachers," Cochran said. "When it comes to representation in physics, that's something dear to my heart." A champion for promoting gender and ethnic diversity and equity in science, especially in physics, Cochran is the newly appointed associate director of RIT's Multicultural Center for Academic Success, where she advises students majoring in science, technology, engineering and mathematics. She conducts research on the Learning Assistant program, a peer-learning model in the College of Science that gives science and math students experience teaching and developing curriculum; and teaches the STEM Education Research and Practice course in the College of Science that prepares students as classroom leaders.
Thomas Gaborski
Kate Gleason College of Engineering
Thomas Gaborski's research may be in ultrathin nano- membranes, but it is going to be titanic in advancing tissue engineering.
Immersed in the science of culturing new skin, tissues and organs, Gaborski develops transparent and permeable membrane "scaffolds" for supporting cell and tissue growth, essential to tissue engineering. His primary building blocks are adipose stem cells acquired from adults rather than embryos.
Gaborski, who was selected for the 2014 Young Innovator Award in Cellular and Molecular Bioengineering given by the Biomedical Engineering Society, said that a future of providing medical options for those who may have lost limbs or organs may not be so far away.
"We are not looking to generate organs here, but what we are looking to do is generate the protocols and the tools necessary to differentiate your cells or my cells into the blood vessels that would be used in 3D- printed organs of the future.
"I like to build and tinker—it's fun, and often useful," he added, "but providing a benefit to humans and helping to improve human health by building and tinkering is even more rewarding."
Vicki Hanson
B. Thomas Golisano College of Computing and Information Sciences
Vicki Hanson's work has brought Internet access to millions of people who wouldn't otherwise be online.
From her work at IBM to her time as a professor in Scotland, she has always aimed to make computers more inclusive by exploring what prevents the aging population and people with disabilities from accessing technology.
Today, she is inspiring students to think about human computer interaction in their work. She even hopes to inspire computing professionals to think harder about computer accessibility as the new vice president of the Association for Computing Machinery, the world's largest educational and scientific computing society.
"Most people probably think that working with human computer interaction is just making buttons the right size, but there is much more to it," said Hanson. "By studying the technology needs and characteristics of people with disabilities, we can design computers that actually improve people's lives.
"I really enjoy sharing my industry and international experiences," she added. "I think it's important to realize that computer accessibility crosses many boundaries."
Trent Hergenrader
College of Liberal Arts
Students in Trent Hergenrader's classes consider themselves lucky. The coveted spots are hastily gobbled up by students in a variety of disciplines who are all eager to learn about creative writing techniques from a bona fide master of horror and science-fiction literature.
Hergenrader, an assistant professor of English, has had his own twisted tales published in Black Static and Weird Tales, and his fiction has been reprinted in the anthology, The Best Horror of the Year #1.
Hergenrader knows that while not all of his students aspire to have stories published, he is certain that each student will have a valuable learning experience in his classes. He also believes that his method of inspiring creativity may be one of the reasons his classes are so in demand.
"When students create fictional worlds, I need them to consider things like gender, race and class relations, how the environment works, how societies and government operate. They learn to work in teams and they begin to learn that it's OK to be critiqued; it helps you change and improve your writing. There are so many ways in which creative writing has life-long benefits."
Clyde Eirikur Hull
Saunders College of Business
Clyde Hull really likes the shopping experience at Wegmans—just as much as Cher and Alec Baldwin's mother do. He believes the supermarket chain does everything right.
His mantra: "You can do well by doing good—if you do good well."
Hull, an associate professor of management, has made an impact as a researcher on corporate social responsibility—so he checks off, one by one, what companies do best in netting the most profits while producing the most good in the world. He said students need to know social responsibility is more than just a buzzword.
He also said students see an immediate financial payoff in taking his classes.
"Students who complete my professional strategy exercise have starting salaries that average more than $3,400 higher than those of students in the same majors who do not. I challenge them to figure out what they want to do—and to use critical thinking to systematically assess how they will get there from where they are now.
"And if by chance their career path leads them to corporate positions at Wegmans or another top employer, I can say, 'I've done a good job.'"
Alex Lobos
College of Imaging Arts and Sciences
As a highly talented industrial designer for General Electric and Whirlpool, Alex Lobos always felt a calling to the classroom, where he enjoyed invigorating interaction with students while teaching part-time.
But the popular assistant professor of industrial design has not forgotten his industry roots. Working with such firms as Autodesk, a multinational leader in 3D design software, he has adeptly enabled industrial design faculty and eager students to test beta versions of the design firm's software and provide valuable feedback to development teams before commercial release.
In addition, clever collaboration, including interdisciplinary courses and sponsored projects, is an intense focus for Lobos.
As a nod to his Guatemala City roots, he is an avid proponent of international education, deftly leading projects in Taiwan, Guatemala and Mexico, among other regions. He was recently named the inaugural Paul and Francena Miller Chair in International Education.
"This is an exciting opportunity to explore international engagement for faculty and students at CIAS—and RIT as a whole," Lobos said.
Drew Maywar
College of Applied Science and Technology
Drew Maywar saw the light.
His research in photonics— the science of transmitting data via light impulses—is cutting edge. But it's also necessary for highly sophisticated fiber optical network systems, from smart phones and the Internet to fighter jets.
His students may not realize that the guy at the front of the classroom discussing Lucent's terabit-per-second fiber-optic communications systems was part of the team that actually developed the technology. And that it anchors the global cellular and wireless networks they use every day.
"What I learned in the process of designing the fiber optic system for fighter jets, I integrated into my class. All the students had exposure to this," he said.
Maywar also has an international highlight reel that includes several years as a Fulbright Scholar and visiting Ph. D. researcher in Japan. He speaks Japanese and is an editor of the Japanese Journal of Applied Physics. And check out the second baseman in the 1992 movie, Mr. Baseball.
Maywar was on the set during filming in Nagoya and was part of a bench-clearing brawl.
His classes are as interesting, but with far fewer fisticuffs.
Annemarie Ross
National Technical Institute for the Deaf
Take a passion for science and math, mix it with a strong desire to teach and top it off with being an example for young, deaf women. That's Annemarie Ross's formula for being a successful and popular associate professor in NTID's science and math department.
She creates an environment where young, deaf students—particularly women—can connect with science and math, and pursue careers in those fields.
"I care about my students. I get excited about what I'm teaching. I make science interesting and cool, keeping the students engaged.
"I do consider myself a role model," she said. "There are just not enough female, deaf scientists out there. I am, however, happy to report that I know students who have gone on from NTID's Lab Science Technology program to work on their Ph.D. in science, so this population is growing."
She blends her passion for science and drive for teaching into a popular combination that ensures her classes are always filled.
"I like to inspire others in my classroom so that they not only become future scientists, but also students who strive to learn something new every day."
Compiled by RIT University News staff
Video extra
To watch videos of RIT faculty experts, go to www.rit.edu/news/experts.php.
Topics