There's a Spot for You at RIT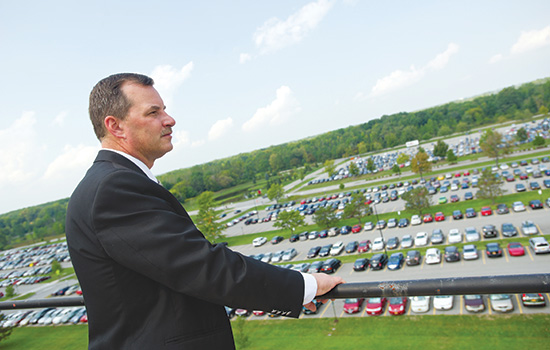 A. Sue Weisler
Randy Vercauteren, RIT's director of parking and transportation services, is a self-described data nut. And we're not talking about any kind of data. He is a connoisseur—dare we say, savant—of parking and transportation data. He calculates distances from parking lots to campus buildings, converting the walk time to feet, assessing that it takes the average 3-mile-per-hour walker five minutes to walk one-quarter mile. But aside from calculations and estimations, Vercauteren is more concerned with, in his words, the "feel" of the walk to the pedestrian. 

While the average RIT employee might find these facts useless and mundane, it's this type of data that Vercauteren thinks about day and night. 

"The most common complaint I hear is that there simply isn't enough parking on campus," he says. "I'm very sympathetic to the conditions of the walk from parking lots to buildings. My struggle is how to connect available parking with where our customers want to park—and have our customers accept that. And of course, parking seems worse when the snow is flying or we're caught 
in a rainstorm.

"When the vast majority of people go to retail space, the inclination is to find the parking spot that is closest to the front door," he says. "They rush in to take care of business and then quickly return to their cars and leave. RIT is a different kind of place. RIT parking lots are strategically placed on the outskirts of campus. The idea is to park your car, leave it behind and proceed to enter a beautiful and aesthetically pleasing campus. We want everyone to be able to enjoy this sense of 'place.' We are striving to make RIT unique and beautiful in its own way."

Vercauteren explains that as RIT's population expands, so does the academic corridor. And as a result, campus 
parking is naturally being pushed farther away from 
academic buildings. His team is charged with helping to ensure pedestrian safety, first and foremost. 

"Emergency vehicles need complete access to buildings, and for safety's sake, pedestrians must be kept separated from cars as much as possible," he says. "Parking enforcement is extremely difficult on this campus. Our parking infrastructure is such that we are essentially an open 
campus. There aren't many gates or guard posts to ensure that people are parking where they should. And, again, we believe gates and posts can 
detract from the overall beauty of campus. So, at this time, our main control mechanism for parking is to issue citations and limit parking in certain areas. Our primary responsibility is to allow people to park safely and get them moving around campus while maintaining order."

Some employees are happy to park a little farther away from their destination. Colette Shaw, a student support specialist, usually parks in A Lot, near Building 99, and views the daily walk as a way to burn extra calories. 

"The walk to my office in the Student Alumni Union is about 10 minutes," Shaw says. "During my busiest times of year, I haven't been able to join fitness classes, and during the lighter times of the year, the weather is nicer, so I can enjoy the beauty of the campus. I never have to worry about finding a vacant spot and I've never paid a penny for parking. I'm in my seventh year at RIT, so that's a savings of more than $1,000. And I figure I save 220 additional miles on my car each year and burn the same number of calories each day."

Vercauteren is aware of the influx of new construction—happening simultaneously— that continues to make parking management difficult. Construction for the Gene Polisseni Center is expected to begin during winter quarter, displacing approximately 300 commuters in U Lot, along with Sebastian and Lenore Rosica Hall near the National Technical Institute for the Deaf impacting M Lot, Golisano Institute for Sustainability affecting those who park in J and T lots, and Institute Hall impacting those in F Lot. 

"We're constantly assessing our options for parking as new projects emerge," Vercauteren says. "We study times of arrivals and departures, the density of the populations in the buildings in these areas and, of course, proximity of parking lots to buildings. We apologize for inconveniences but really need the community to understand that growth and stability are often accompanied by new challenges."

Vercauteren's open-door approach to parking and transportation makes it easy to find answers to certain "burning" questions, such as whether RIT will eventually run out of parking, construct a parking garage or charge a fee to park on campus. 

"There are no current plans to build a parking garage 
on campus," he says. "However, there is additional 
parking being planned. The area south of S Lot, which 
will accommodate 232 parking spaces, is under construction and will alleviate some of the displaced spots lost in 
U Lot. Construction will be completed on S Lot expansion in the next few weeks. Additional areas of development are also being considered, but, as of today, nothing further has been approved for construction." 

M Lot, near Rosica Hall, is expected to re-open by 
fall 2013. 

According to Vercauteren, the current policies and 
procedures in place will prevent RIT from being in 
immediate jeopardy of running out of parking. But he notes that his staff is constantly assessing variables 
including student enrollment, faculty and staff employment figures and the current resident and designated 
resident parking restrictions, which all play significant roles in the parking strategy. 

Vercauteren says he thinks the "pay to 
park" idea needs to be examined and can 
offset the cost of maintaining parking facilities and providing alternative transportation, like buses and shuttles, to and from campus. 

So what's it like to work in what is 
arguably the most misunderstood 
department on campus?

For Casandra Allen, customer services manager, parking is personal. She says it's an adventure as she meets with students, faculty and staff regarding their parking concerns. 

"I periodically meet with students who have received a number of parking citations and I try to get to the root of what is causing their parking problems," says Allen, who adds that she finds her job rewarding. "Many times I find that they are having trouble managing the stress of a new school or their coursework, and sometimes the discussion turns very emotional. Listening to them is my main objective, and it makes me feel great to help them correct their problems by changing their parking behaviors. After the tears have dried, I give them a hug and am gratified to see them smile when they leave my office. It's truly an honor to work in this office every single day."
Randy Vercauteren, director of RIT parking and transportation services, offers these parking tips:

Look for alternative parking instead of parking in the lot that's closest to your building. Just because you can't see the lot from your building doesn't mean there isn't one nearby. It may be hidden on the other side of a building or located closer than you think. Experiment on a nice day and time yourself to see how long the walk takes. 

Don't assume that a farther parking lot is miles away. In many cases, it may take as little as 2 to 3 minutes more to walk from your car to your destination from an alternate lot.

Cut through buildings to reduce the time 
walking outside in inclement weather if you choose to park in a lot that isn't adjacent to 
your destination.
Call the parking and transportation office or 
visit the office in Grace Watson Hall. Staff is on hand to provide information on alternative lots not far from your destination. 

Make a commitment to a healthy lifestyle and choose to park in a lot farther away from your destination. This ensures that you will make strides toward healthier living at least twice a day. 

Purchase a reserved parking pass, which is one way to ensure that you get a spot in the lot you want. However, reserved passes are limited. 

Go to www.rit.edu/parking for information 
on low-emission and fuel-efficient vehicles, 
and for other campus parking details.
Did you know?

RIT parking and transportation services 
issued 17,152 citations during the 
2011–2012 academic year.
There are 5,961 parking spaces associated 
with the academic buildings on campus. 
There are 4,664 parking spaces associated 
with RIT residences.
There were approximately 17,000 registered vehicles on campus during the 2011–2012 academic year.
The RIT Active Transportation Improvements Project received a 2011 Design Award from 
the New York Upstate Chapter of the American Society of Landscape Architects for its efforts 
in re-balancing transportation modes, including walking, bicycling and other modes of human-powered mobility, on campus.
A knack for parking runs in the family. Randy Vercauteren's parents invite spectators to use 
their property for parking during Green Bay Packers home games due to the proximity 
of their home to Lambeau Field, which is right across the street.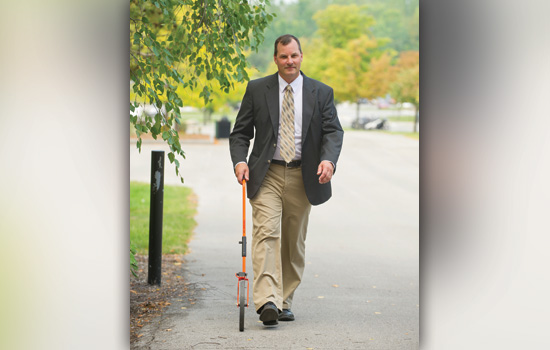 A. Sue Weisler