Thousands to attend RIT's Spring Career Fair
Nearly 240 employers will represent small, medium and large companies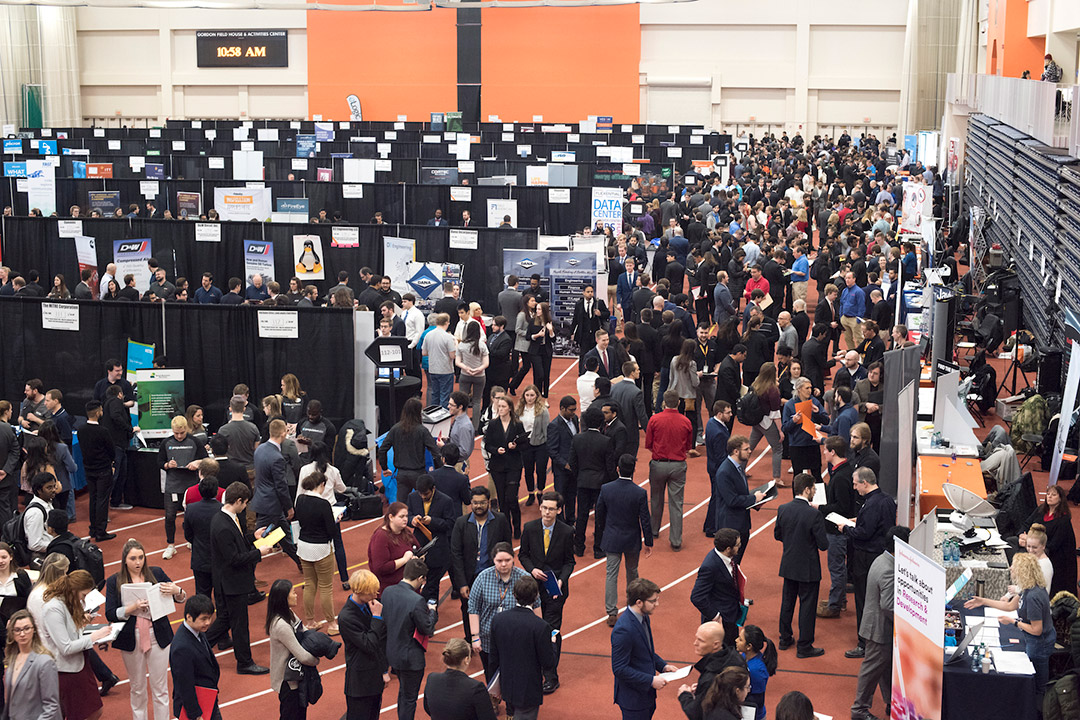 A. Sue Weisler
Nearly 240 companies searching for skilled employees are expected at RIT's 2020 Spring Career Fair on Wednesday, Feb. 26.
More than 4,000 students and alumni typically attend the Spring Career Fair.
There will be employers attending from every region in the country, including dozens with operations in the Rochester area.
There will be representatives from Fortune 500 companies, medium-sized regional and small tech firms. Some employers, such as Paychex, Datto, Johnson & Johnson, Wayfair, L3Harris and the National Security Agency, attend each year while dozens of companies, such as Apple Retail, Pyramid Brokerage, Nutrablend, Keller North America, Reingold, Commonwealth Care and The City of Rochester, are attending the fair for the first time.
The fair, at RIT's Gordon Field House, runs from 10 a.m. to 4 p.m. and is open to current RIT students and alumni. The event allows them to meet with prospective employers to explore career opportunities for internship, cooperative education, entry- or experienced level-positions.
Many companies will schedule interviews with students the day after the fair for full-time or co-op employment.
RIT's cooperative education model is one of the oldest and largest in the country. More than half of the students participating in co-op will go to work for one of their co-op employers upon graduation, said Maria Richart, director of RIT's Office of Career Services and Cooperative Education.
Many of the attending employers send RIT alumni to represent them and engage with faculty and student clubs and organizations while on campus.
Richart said the turnout is a clear reflection of the continued strong demand for the outstanding student talent RIT produces.
Please note: D Lot general will be closed on Wednesday, Feb. 26, and Thursday Feb. 27, to accommodate this event.