Thousands flock to Career Fair
Employers cited the experience gained from co-ops as an appealing factor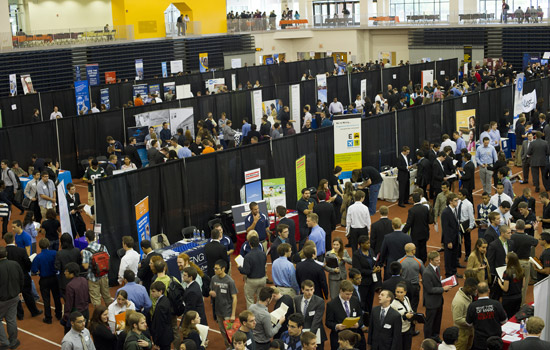 The Gordon Field House and Activities Center at RIT was alive with hordes of eager students and employers attending the Fall 2012 Career Fair on Sept. 26. Thousands of students waited in lines for a chance to impress representatives from more than 250 major companies. Employers were enthusiastic to meet some of RIT's brightest job seekers.
"We love RIT students," says Denise Hord, human resources assistant manager for Toyota Motor Engineering and Manufacturing North America. "They are a good fit because, from co-op experience, they have gained both the people-skills and the technical skills to be superb engineers."
The fair, which had a record number of employers in attendance, also attracted a groundbreaking 3,235 students and alumni, which exceeded initial estimates.
Manny Contomanolis, associate vice president and director of the Office of Co-op and Career Services, says that the fair was a success.
"Based on feedback we've received from students and employers, it's an outstanding event," he says. "Students did a great job representing RIT and themselves."
Hundreds of students will return today and throughout the quarter to interview with employers that they met through the fair.
Topics