Thousands turn out at Cowboys Stadium for Big Shot
Photography team captures spectacular nighttime image of world's largest domed stadium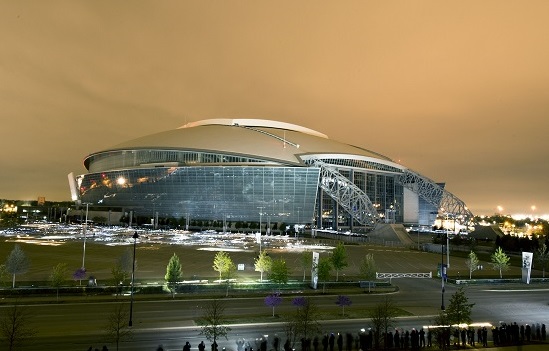 RIT Big Shot Team
Arlington, Texas – People from across the country and around the world came together at the world's largest domed stadium Saturday night to help make Rochester Institute of Technology's 28th Big Shot photograph a success.
More than 2,400 volunteers, including about 40 RIT students who traveled to Texas from upstate New York and 175 alumni who live in the area, provided the primary light source for the Big Shot image while RIT photographers shot an extended exposure with Cowboys Stadium completely dark for the first time in its history.
This year's final image is a 30-second exposure at f16 at ISO 400.
"The Big Shot represents one of RIT's signature projects, and we are absolutely thrilled with the outcome of this year's nighttime photograph of Cowboys Stadium," says Bill DuBois, professor emeritus in the School of Photographic Arts and Sciences. He led the event with his colleagues Michael Peres, Dawn Tower DuBois and Willie Osterman. DuBois added that capturing the image culminated 20 months of work. "We'd like to thank everyone who came out."
The Big Shot is often described as "painting with light" because participants are asked to "paint" or shine their light source onto a particular exterior area of a landmark while the photograph is taken. Participants were tasked with continuously painting their assigned area of Cowboys Stadium while RIT photographers -- perched atop a scissor lift nearly 40 feet in the air -- shot an extended exposure. The photo was taken shortly after sunset Saturday, around 9 p.m. central time.
Since RIT started its Big Shot project in 1987, university photographers have captured such landmarks as The Alamo, San Antonio, Texas; the U.S.S. Intrepid, New York City; and the Royal Palace, Stockholm, Sweden.
Nikon Inc. has been a longtime sponsor of the event and was among the sponsors again this year.
In a new twist for 2013, RIT students and faculty from the Chester F. Carlson Center for Imaging Science created an image of their own in connection with the project by producing a 3-D reconstruction of the stadium. The reconstruction will allow viewers to do a virtual walk around the area in which the Big Shot is produced.
"We would also like to congratulate our colleagues from Imaging Science for their three-dimensional reconstruction of the stadium," says DuBois. "What a night for RIT!"
RIT's Big Shot event began as a way to teach students about flash photography. RIT's School of Photographic Arts and Sciences is nationally recognized for its degree programs.
To view the nighttime images of all Big Shot subjects, go to www.rit.edu/bigshot.
Topics