Three 'Alumni Flashback Photo Challenge' winners
Alumni shared photos from their college days and fans of the RIT Facebook Fan Page chose their favorites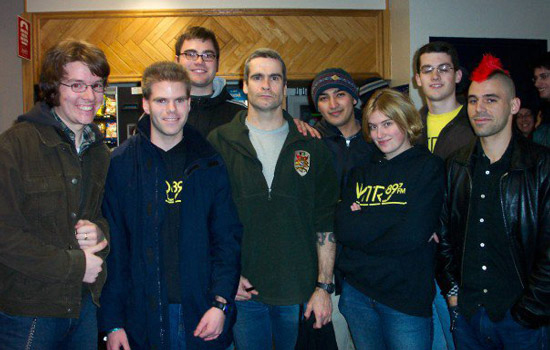 Alumni recently shared photos from their college days and fans of the RIT Facebook Fan Page chose their favorites in the latest RIT Facebook Photo Challenge.
Three winners earned Barnes & Noble @ RIT gift packs for earning the most "likes" from visitors to the fan page: Bethany Choate '06 (imaging science), Stuart Cantor '92 (packaging science) and Kim Tonry '79 (professional photography).
As a student, Choate was a member of WITR-FM (89.7)—which relates to the subject of her photo earning the most "likes." It shows a group of radio station members with Henry Rollins, a musician, stand-up comedian and spoken-word artist, following his performance, in 2004, in Clark Gym.
"All the folks in that picture were WITR members," recalls Choate, who served as general manager and member at large during her days with the radio station. "We had gone to see Henry Rollins' spoken-word performance in Clark Gym. After the show, we waited around in the lobby of Ritter Ice Arena for a shot at meeting Henry. We had brought along a recorder from the station in the hopes of recording a station ID spoken by Henry.
"Also, Tom Smolenksi was working on an animation for which he was hoping to have one line recorded by Rollins. Henry was very gracious, perfectly yelling, "Release the skulls!"—thereby creating the most epic animation soundtrack ever. It was really fun and a great excuse to be able to meet the great Henry Rollins."
A Rochester resident, Choate is now an outreach specialist for RIT's Chester F. Carlson Center for Imaging Science. "It is so great for me to be able to come back and work for my alma mater," she says.
Tonry's black-and-white photo shows the Quarter Mile during one of the first snowfalls of the season in the fall of 1975. "I have an album of RIT-era photographs I've shared with my friends and I think the Facebook Photo Challenge was an excellent idea to encourage an even broader scope of sharing within the RIT community," Tonry says. "It's interesting seeing photographs from different eras of students."
Now living in Downers Grove, Ill., Tonry adds, "I'm enjoying RIT's presence on Facebook and enjoying reconnecting with fellow students and teachers I met through my years at RIT."
Cantor, of Whippany, N.J., was a member of Phi Kappa Tau. His photo shows a group of chapter members gathered outdoors for "Saturday morning champagne and doughnuts" during Spring Weekend in 1987.
To view all of the photographs submitted in the contest, visit the RIT Facebook Fan Page.