Tiger hockey—women and men—set national records at season's end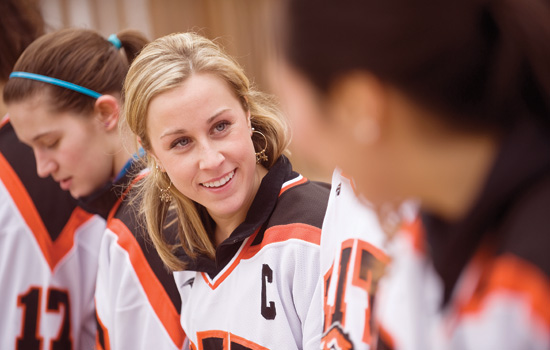 A. Sue Weisler
The RIT women's hockey team enjoyed a dream season, advancing to the 2011 NCAA Division III Women's Ice Hockey National Championship game for the first time in program history. Despite losing to Norwich in the championship, RIT set a program record with a 26-2-2 record and was ranked number one in Division III for 11 weeks. The Tigers set numerous team records and were the top team nationally in several statistical categories.
Sarah Dagg, a fourth-year hospitality and service management major, was named the 2011 Laura Hurd Award winner as Division III's National Player of the Year. Dagg, a native of St. George, Ontario, finished the season fourth nationally with 42 points on 18 goals and 24 assists. She finished her RIT career as the university's all-time leading scorer with 154 points on 63 goals and 91 assists. Dagg became RIT's second three-time American Collegiate Hockey Association RBK All-American.
"Sarah is the heart and soul of this team and has been since her freshman year," says RIT Head Coach Scott McDonald, a finalist for the 2011 Women's College Hockey College Division Coach of the Year. "She brings an energy and work ethic to every practice and workout that is unmatched on this team."
Fellow seniors Traci Galbraith, a marketing major, and Katie Stack, a psychology major, also earned All-American honors. Galbraith, a defenseman, was named to the first team, while Stack, a forward, earned second team honors. Galbraith was named to the NCAA Division III Women's Ice Hockey Championship All-Tournament Team, while Stack finished her RIT career as the university's all-time leader in goals with 81.
"I am proud of what our team accomplished this year," says McDonald. "Their success was a product of hard work from the first day of practice."
On the men's side, RIT won its fourth straight Atlantic Hockey Association regular-season championship and advanced to the AHA Championship game for the second straight season. The Tigers finished 19-11-8, recording their fifth-straight season with at least 19 victories.
Junior forward Tyler Brenner, a business major, was tied for seventh nationally with 26 goals. On March 21, he signed a professional deal with the Toronto Maple Leafs of the National Hockey League.
Sophomore goaltender Shane Madolora, a management major, was named the Atlantic Hockey Association Goaltender of the Year. He finished 17-3-7 and led the nation with a .935 save percentage and six shutouts. He was third with a 1.93 goals against average.
The Tigers are now 110-59-19 since the start of the 2006-2007 season.