Tiger twins and team captains pumped to be back on the ice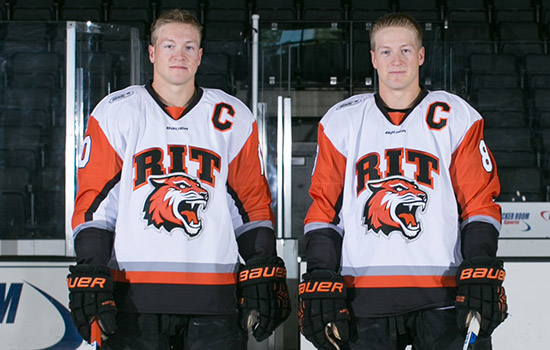 Mike Bradley
While everyone in the RIT/Rochester hockey community has the men's hockey contest against Northeastern University circled as the season opener and a hot ticket, fourth-year defensemen, captains and identical twins Brady and Chase Norrish have something else in mind: Relief.
Since arriving at RIT in 2014, the duo from Strongfield, Saskatchewan, has helped power the team to two Atlantic Hockey Championships and two NCAA Division I Tournament berths in their first two seasons. In 2014-15, Brady was named to the All-Rookie Team and earned All-Atlantic Hockey third team honors. The following year, Chase was named the Atlantic Hockey Defenseman of the Year and was a first team pick, while Brady was a second-team selection.
Last season, the duo was primed to lead RIT to its third straight league title. And as the second half of the season began, the team was near the top of the league standings.
Within three weeks, everything changed. On Jan. 14, midway through the third period in a contest at league foe American International, Chase was rushing the puck up the ice before getting innocently bumped into the boards. He'd made this play hundreds of times. But this time, his right knee gave out, and he would need season-ending surgery for a torn ACL.
"It was hard to believe and grasp that I was done for the season and couldn't help the team," said Chase, an environmental science major. "I had never gone through anything like that."
As fate would have it, Brady suffered an identical injury to his left knee in nearly identical fashion three weeks later on Feb. 4 at Robert Morris, requiring surgery and putting a premature end to his season. Despite missing 16 games last season, Brady was named an All-Atlantic Hockey second-team selection.
"It was tough to swallow, especially when you want to help your team succeed and it was right around playoff time," said Brady, a business management major.
With both Norrish twins out of the lineup, the Tigers had their season end in the first round of the Atlantic Hockey Tournament for just the second time in 11 seasons.
"Both Brady and Chase are respectful, hard-working guys and as good as they are on the ice, they work equally hard in the classroom and are a joy to have around," said RIT head men's hockey coach Wayne Wilson. "To have the same injury so close together was so unusual and unfortunate."
In true Norrish fashion, both were chomping at the bit, ready to help each other get back on the ice. With hard work and the help of Rochester Regional Health's doctors, along with RIT's athletic training and strength and conditioning staffs, the duo completed the arduous physical rehabilitation process and are at full strength for their senior seasons.
"I had no doubt that both would be back in time for the season," said RIT head athletic trainer Ben Emke. "They are extremely hard workers who were here for every rehab session, knowing what needed to be done."
The brothers, healthy and ready to contribute, join 19 returning players, including 12 with NCAA Tournament experience, in their quest to capture a third league title in four seasons.
"It's a sigh of relief to be back and great excitement to be playing again," said Chase. "It's great to be back on the ice with the guys," Brady added.
Brick City weekend athletics
Friday, Oct. 13:
Women's soccer vs. Rensselaer Polytechnic Institute, 4 p.m., Tiger Stadium
Women's hockey vs. Rensselaer Polytechnic Institute, 4:05 p.m., Gene Polisseni Center
Volleyball vs. The College at Brockport, 5 p.m., Clark Gym
Saturday, Oct. 14:
Volleyball vs. SUNY Geneseo, 10 a.m., Clark Gym
Men's and women's swimming and diving vs. Rensselaer Polytechnic Institute, 1 p.m., Judson Pool
Women's hockey vs. Union College, 1:05 p.m., Gene Polisseni Center
Volleyball vs. Springfield College, 2 p.m., Clark Gym
Women's soccer vs. Skidmore College, 2 p.m., Tiger Stadium
Men's hockey vs. Northeastern University, 7:05 p.m., Blue Cross Arena
Topics