Tigers flex their philanthropic muscles on ROAR Day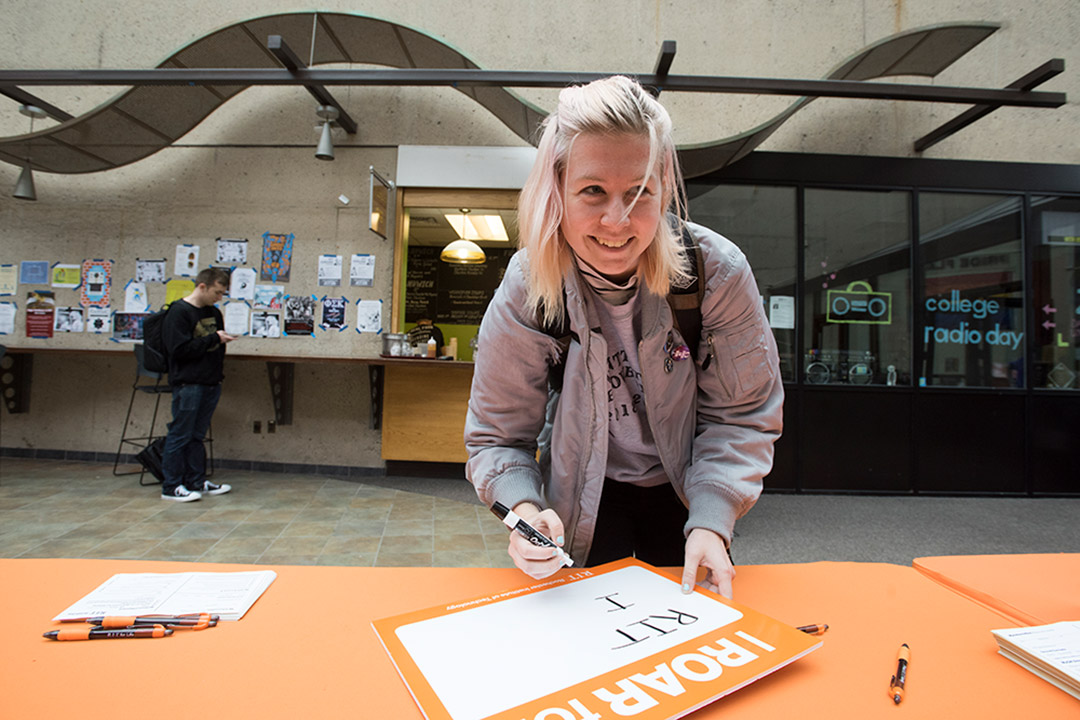 A. Sue Weisler
Continuing the university's tradition of philanthropy, RIT is celebrating ROAR Day from midnight to midnight on Thursday, Oct. 3.
ROAR Day is an annual day of giving that provides a unique opportunity for people to help support a specific area of the university that enriched their RIT experience. People can also participate in challenges that can earn their favorite area of the university additional funds. There are specific challenges for students, as well as faculty and staff. Additionally, each person who makes a gift of $5 or more on campus will receive a sticker for a free scoop of Ben & Jerry's ice cream.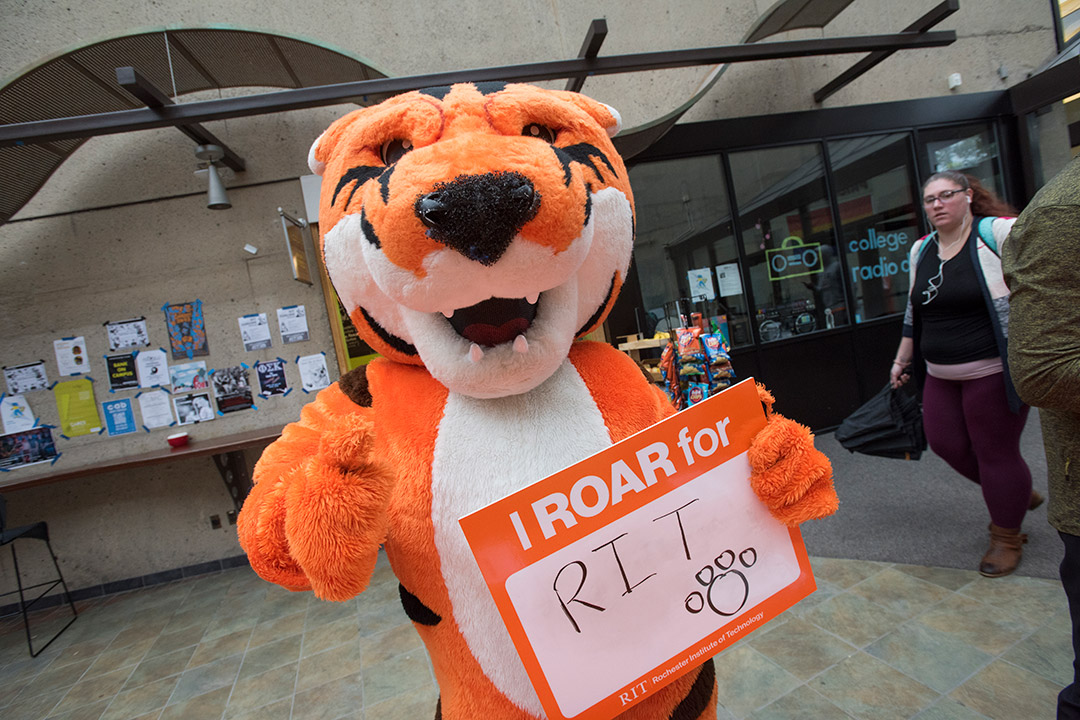 A. Sue Weisler
"Being that the university is in the middle of the Transforming RIT blended fundraising campaign, your support is more important than ever. There are so many things that RIT provides which are made possible through philanthropic gifts," said Marisa Psaila, executive director of annual giving for Development and Alumni Relations. "ROAR Day helps ensure that current and future Tigers will have the same, great RIT experience as our alumni."
RIT publicly launched a $1 billion campaign, Transforming RIT: The Campaign for Greatness, in July 2018. To date, $630 million has been raised.
There are several sites on the main campus that can accept gifts in cash, checks and Tiger Bucks, including:
Infinity Quad, 10 a.m. – 3 p.m. (Rain location: Wallace Lobby)
Global Village, 10 a.m. – 3 p.m. (Rain location: Salsarita's)
Golisano Hall Atrium, 10 a.m. – 3 p.m.
The Commons, 11 a.m. – 3 p.m.
SAU Walkway, 10 a.m. – 3 p.m. (Rain location: SAU Lobby)
Gifts can be made via credit card, PayPal or payroll reductions on the ROAR Day website.
"The collective impact of everyone's gifts is huge. It's really a showcase of Tiger spirit. It shows we care about the school, we care about others and we care about the philanthropic gifts, big and small, that help the university grow," said Psaila. "This is the time of year to give back. Whether it's your first or 50th gift, you have a chance to make a huge impact on RIT."
Last year, more than 3,200 donors gave over $2.1 million to help support various areas of the university.
For more information about participating and giving back, go to ROAR Day website or the ROAR Day FAQ page. To learn more about Transforming RIT, go to rit.edu/transformingrit.