Top academic achievers honored as RIT Outstanding Undergraduate Scholars
Award ceremony also featured students' families and their high school teachers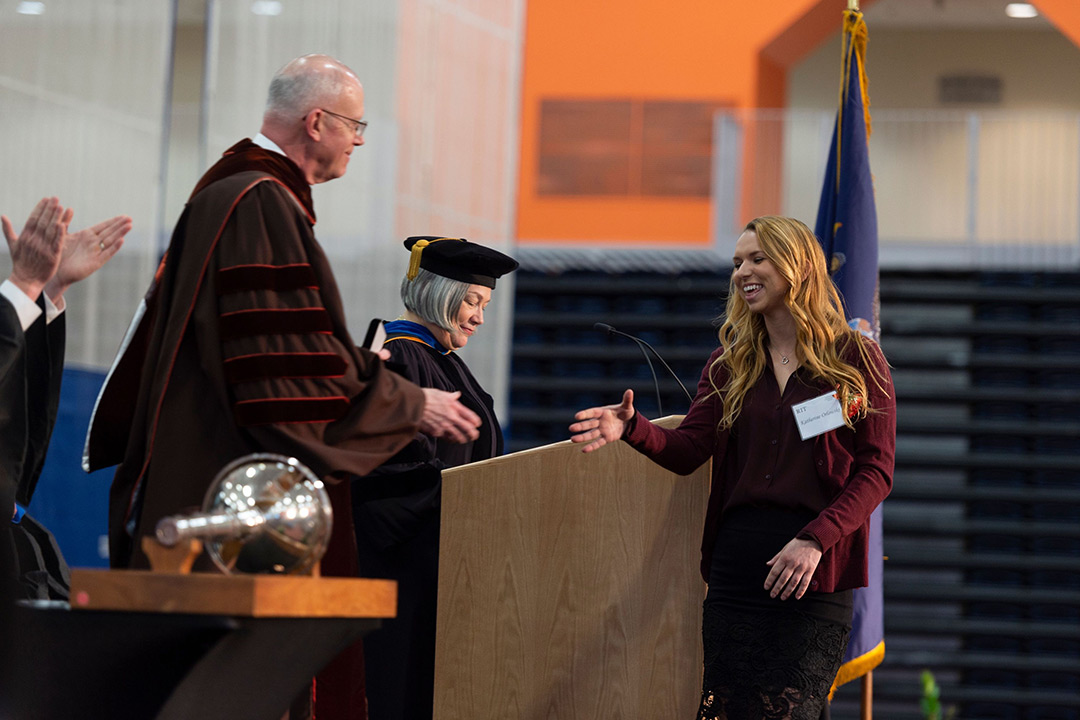 Katherine Orlowski, a psychology and American Sign Language interpreting education double major from Chester, N.Y., has conducted research at Rochester Institute of Technology since she was a freshman.
Now a senior who is ready to graduate, she credits her high school biology teacher, Lisa Reece from Warwick Valley High School, for sparking her interest in educational research and teaching her how to work independently and diligently.
"She gave me an incredibly strong foundation that I have used every day in my research work at college, and it was because of her guidance that I was such a strong candidate for research assistant positions in college," Orlowski said.
Orlowski was one of 111 RIT students honored Thursday as Outstanding Undergraduate Scholars. The students were also able to invite the high school or community college teacher that made the most impact on their education.
"The thing I remember most about her was how passionate she was about her research," said Reece, who was one of nearly 50 teachers who attended the ceremony and dinner in the Gordon Field House and Activities Center.
The Outstanding Undergraduate Scholar Awards, held annually since 1976, honored students who have achieved at least a 3.85 GPA. The scholars have maintained a high standard of academic excellence while also giving back to their community through civic or volunteer work, conducting research or being engaged in a co-op or work in their field of study.
"You should be so proud of yourselves," Ellen Granberg, RIT provost and senior vice president for Academic Affairs, told them at the ceremony. "The program lists many of your achievements, awards and research breakthroughs. However, what it doesn't mention are the countless hours that you spent studying or working on a project, completing a piece of artwork or checking your research results. Your commitment to excellence shines through."
Many of the honored students are on athletic teams, volunteer in their communities and often work full or part time during the school year.
RIT President David Munson congratulated the students, saying he was proud of them both in and out of the classroom.
"As you enter the workforce, graduate school, the armed forces or embark on other career pursuits, you will certainly make your mark upon your communities and the world," he said.
Munson, who handed each student an engraved commemorative scholar medallion, also commended the students' families and teachers for "the profound impact you have had on the lives and careers of our scholars, and for preparing them so well for us and for the future."
As it has done for years, RIT paid for the teachers' transportation and hotel expenses to be part of the ceremony.
"This is our way of recognizing them and the hard work they do," said Susan Provenzano, assistant vice president for Academic Affairs. "They're the ones who got the students ready to come to RIT."
Tia Weiss, a third-year photographic and imaging arts major from Richmond, Texas, nominated Amanda Respondek, her yearbook class teacher from George Ranch High School, for her "outstanding teaching ability and dedication to her students and school." Weiss had moved to Texas from California in her senior year and said Respondek's class "gave me a platform to express my creativity and an opportunity to find a community when I felt I had none. Yearbook was the class that set me on the trajectory toward the career I now pursue."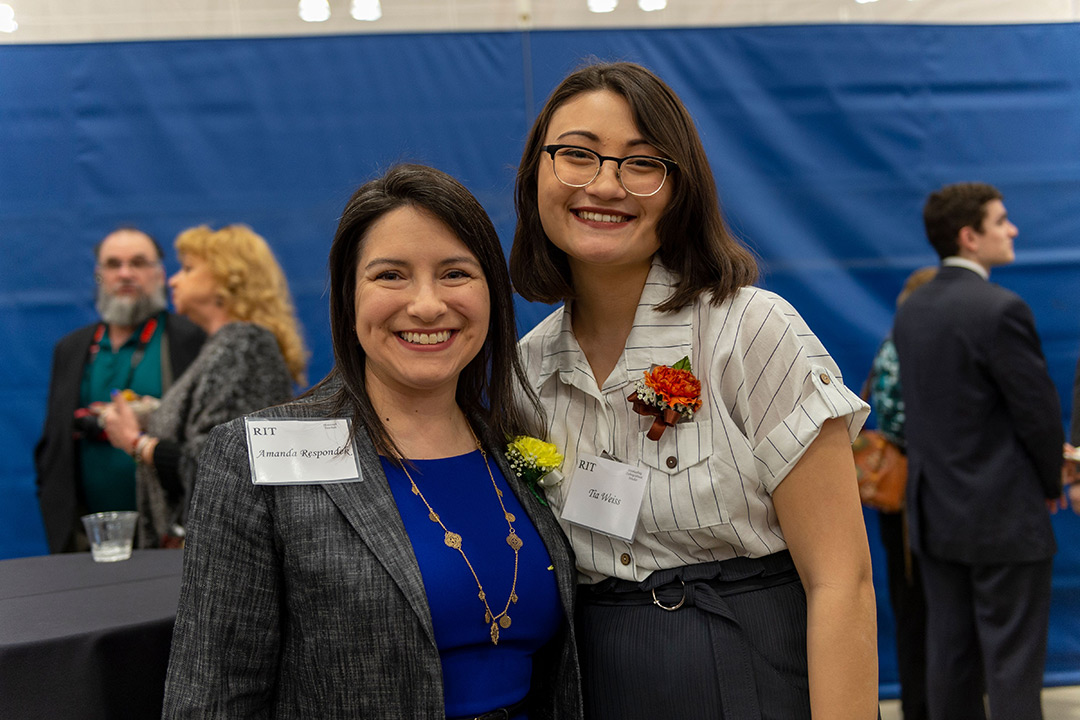 Elizabeth Lamark
Respondek recalled Weiss as an outstanding student. "Her peers just gravitated towards her. As a peer, they wanted to be her friend. As a leader, they wanted to work with her. Her work ethic is phenomenal. Anything she does, she puts her full effort in it."
Ren Chauret, a third-year software engineering major from Kokomo, Ind., chose French teacher Andrew Bowers from Western High School in Russiaville, Ind., as the teacher who made the most impact in his life.
"He enjoyed challenging me to learn and improve, rather than letting me easily succeed," Chauret said. "He has become a mentor and a friend, not just a teacher. I do not think any teacher cared about me both as a student and as a person as much as Mr. Bowers did. His classes are some of my fondest memories of high school and helped me to truly love learning."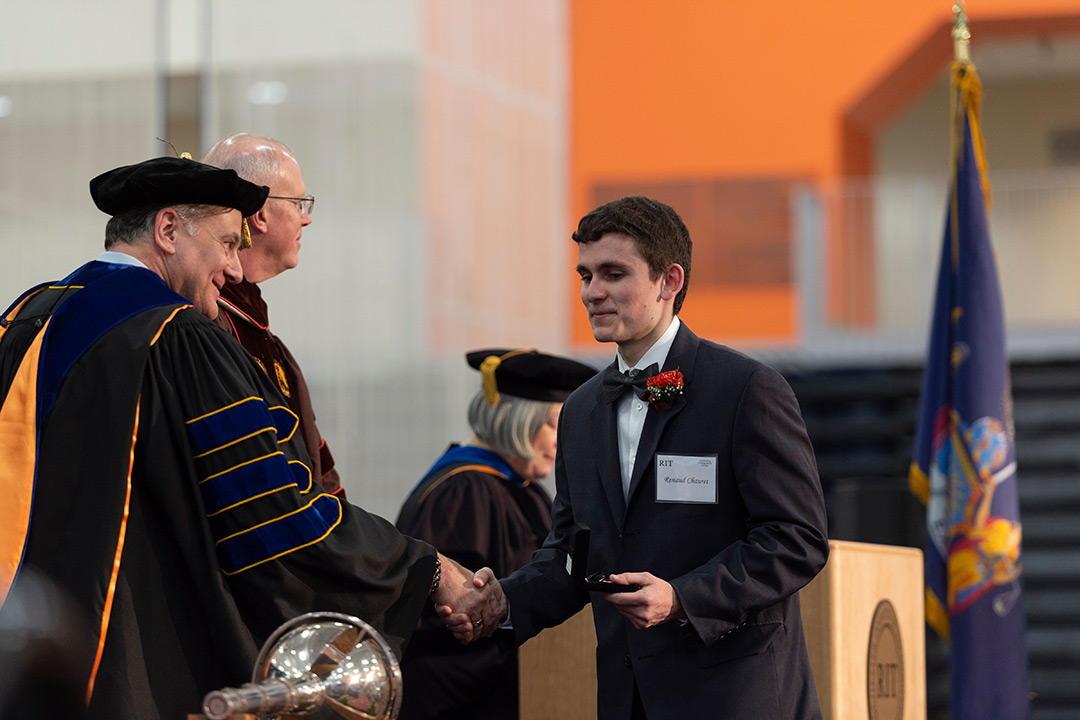 Elizabeth Lamark
Bowers recalls an assignment when Chauret was asked to speak about any topic in French to the class. Chauret took that assignment one step further, and immersed himself in a subject he didn't know anything about.
"Ren taught himself how to bake, and spoke about baking to his class," Bowers said. "I'm not even a little surprised how well he's doing in college."
Jack Smith, a third-year software engineering major, and his brother, Liam Smith, a fourth-year electrical engineering major, both from the Rochester suburb of Webster, nominated Sage Miller, their computer science teacher from Webster Schroeder High School.
"She helped me transform my enjoyment for writing code on my calculator into a real world passion that led me to the software engineering field at RIT," Jack Smith said. "Her teaching helped me to see the potential that my hobby could turn something greater and greatly improved how I understood computer science."
Miller said the admiration is mutual.
"They were very bright and capable of everything they put their minds to," she said.
Kylie Pleakis, a fourth-year applied mathematics major from Belmont, N.Y., nominated her calculus teacher and cross-country and track coach from Allegany-Limestone High School, Kathy Stamets.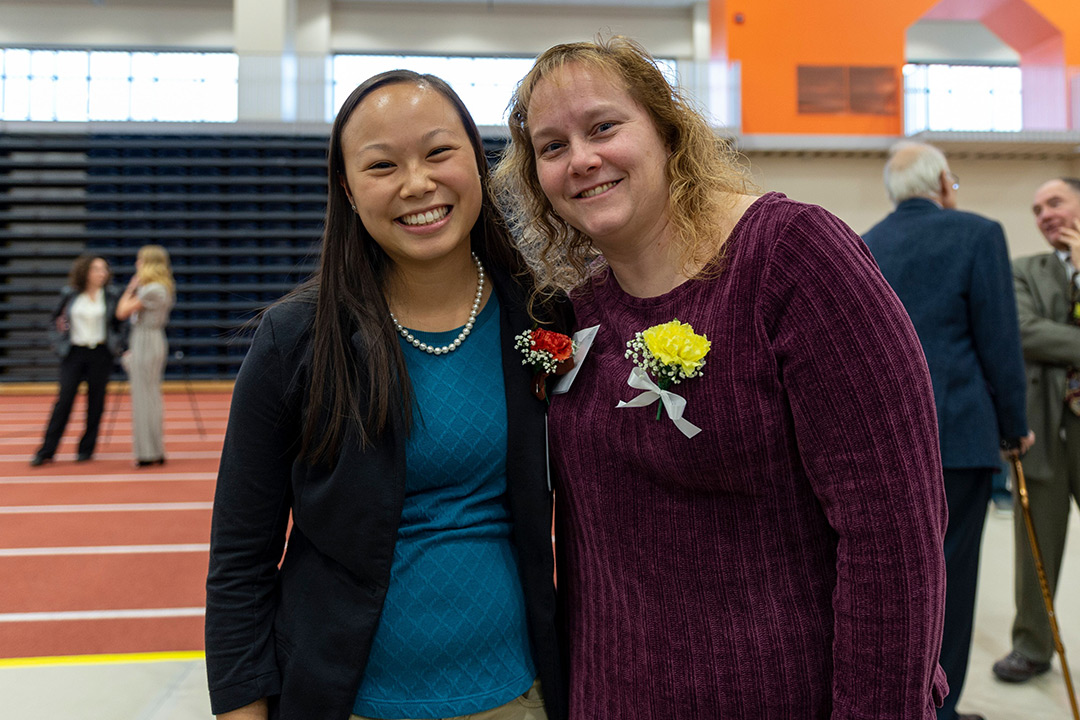 Elizabeth Lamark
"She wore many hats, but the biggest role she played for me was a mentor," Pleakis said. "Placing an emphasis on hard work, she always encouraged her students to keep pushing themselves to achieve their goals, whether it be academic, athletic or even life goals."
Stamets recalls Pleakis being "very hard-working, and one of my top students over the years."
After each student was recognized on stage, Granberg concluded the presentation.
"May the remainder of your personal lives and careers reflect the excellence you have demonstrated here at the Rochester Institute of Technology," she said. "Congratulations!"