Undergrads experience work as researchers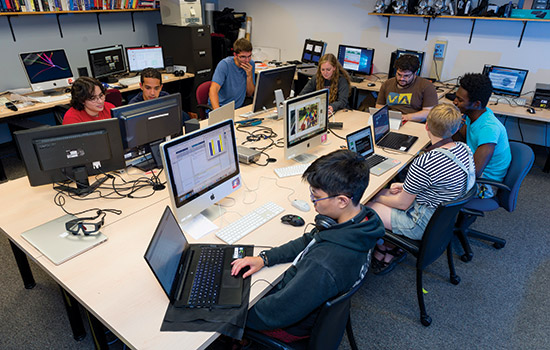 A. Sue Weisler
Aliya Gangji spent her summer exploring the world of research.
The computer science major from Muhlenberg College in Allentown, Pa., joined nearly 60 other students from around the country at RIT this summer for the Research Experiences for Undergraduates (REU) program. Sponsored by the National Science Foundation, REUs allow students to conduct ground-breaking studies, while developing a passion for performing research.
"I graduate next year and I've been weighing my options between attending graduate school and going right into the workforce," said Gangji. "One of my professors suggested that the REU program would be a good bridge for getting introduced to graduate-level research."
Since 1987, the NSF has offered REU grants, designed to open U.S. students' minds to graduate school in STEM disciplines and build lifelong capabilities for continued research careers, in fields ranging from cyberinfrastructure to ocean studies. This summer, RIT hosted six different programs—the most of any university in New York state.
For Gangji, the summer experience gave her an opportunity to work with other students and diverse faculty mentors in the field of computational sensing. Working closely with Trevor Walden, a third-year game design and development major at RIT, the pair researched ways to improve computer-based image annotation by exploring how humans analyze images using eye tracking and computational analysis of facial expressions and spoken language.
"It's exciting because we're not reading something from a textbook, we're trying to discover something that no one has found before," said Ashley Edwards, a psychology major at State University of New York at Geneseo and an REU student.
In addition to being mentored in research, students from the Computational Sensing REU participated in career-oriented activities on topics ranging from fundamental research skills to preparing and applying for graduate school. At the end of the summer, students presented their projects at RIT's annual Undergraduate Research Symposium.
"I published my first paper as an undergraduate and that led directly to me pursuing my Ph.D.," said Reynold Bailey, an associate professor of computer science at RIT and co-PI of the Computational Sensing REU.
"We want to equip the next generation to tackle important research challenges and make a difference for society," added Cecilia Ovesdotter Alm, an assistant professor in the College of Liberal Arts and PI of the Computational Sensing REU.
REUs at RIT
The university hosted six Research Experiences for Undergraduates programs this summer. They were:
Accessible Multimodal Interfaces—Students created research projects to enhance how consumers with sensory disabilities (deaf, hard of hearing, blind or low vision) access multimedia content on web browsers and mobile apps.
Computational Sensing—Students were challenged to make better sense of the human experience using sensing technologies, including eye trackers, facial expression trackers, natural language processing tools and physiological monitoring. The research has valuable implications for many fields, including human-computer interaction, accessibility, health and well-being and gaming.
Extremal Graph Theory and Dynamical Systems—Students conducted research in the areas of dynamical systems and mathematical biology and in network theory. The projects ranged from the study of heart arrhythmias to the centrality of people in social networks to functional connectivity of the human brain.
Imaging in the Physical Sciences—Students worked in research groups on projects that include the search for exoplanets, remote sensing of critical environmental situations, pattern recognition, imaging of medical X-rays, preservation of historical documents, human vision, detecting art fraud and the study of young stellar clusters.
Materials, Application and Development for Organic Photovoltaic Devices—Student researchers developed improved materials for organic photovoltaic devices—technology that will play a vital role as society addresses the need for renewable energy. The teams built upon RIT's functional printing strengths to bring OPV technology closer to commercial manufacture through ink development and substrate modification.
Model-based Reasoning in STEM Education— Student researchers conducted research methods workshops, group meetings and social events to explore discipline-based educational research in biology, chemistry and physics.