University Advancement focuses on future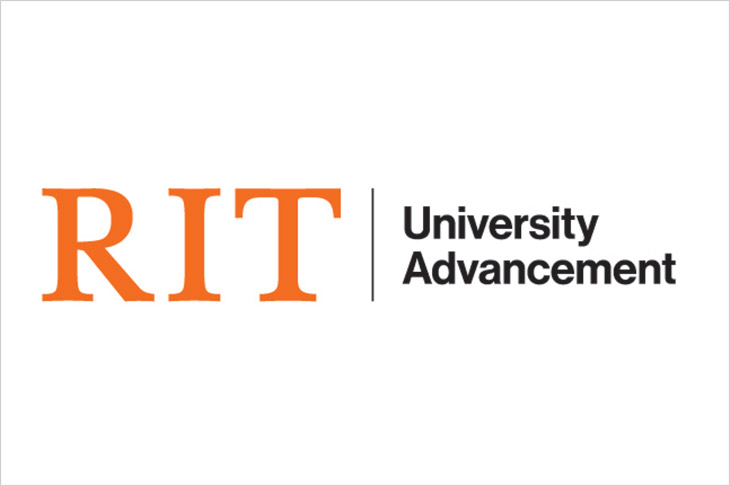 Phil Castleberry, a 20-year veteran of higher education advancement, began at RIT last February as the vice president for Development and Alumni Relations, now called the Division of University Advancement.
In 2018, RIT publicly launched a $1 billion campaign. The campaign is unique in that it's blended, meaning RIT is seeking support from a variety of investors, including alumni, government and corporate partners, and research foundations and agencies. The campaign, titled Transforming RIT: The Campaign for Greatness, has raised $740 million to date.
Here are Castleberry's thoughts on philanthropy and engagement at RIT.
Just a few months after you started at RIT, the pandemic hit. How has philanthropy and engagement changed at RIT? What about the national landscape?
Philanthropy and engagement have both been impacted by the pandemic. Most noticeably, on the engagement front, is our inability to conduct in-person events and meetings in the manner we are accustomed. While the team has been very creative in creating virtual oppor­tunities, nothing quite compares to being face-to-face with our alumni and friends. We have slowly begun to re-engage, mask-to-mask, in very small groups, but we are eager for when we can return to RIT gatherings of all sizes on campus and around the world.
Philanthropy, thankfully, has been less impacted. Alumni and friends stepped up in the early days of COVID-19 to provide support for our students, addressing technology and other unanticipated needs. The response was overwhelming and our students are very appreciative. Fundraising for some other initiatives did slow down, but conversations continued. It takes a lot to stop philanthropy; sometimes timelines are disrupted, which is what we're seeing today, but the intent and desire to give remains.  
Nationally, we're seeing some shift in where people are giving. As you might expect, health care and community agencies like food banks are seeing increases in giving. The long-term effect of the pandemic on giving nationally remains to be seen, but data shows that charitable giving has historically rebounded quickly following economic downturns.
How has Transforming RIT: The Campaign for Greatness been affected by the pandemic?
Transforming RIT continues to make good progress toward our $1 billion goal. For the fiscal year that ended June 30, 2020, we added $92.8 million to the Campaign total, an increase of nearly 5 percent over the prior year. Our colleagues in Sponsored Research Services, working with our outstanding faculty, had a record year for funding, and the Government and Community Relations team also had a strong year. As of today, we've raised $740 million. 
What initiatives are in the works for 2021?
Development and Alumni Relations at RIT has a rich history and many years of strong performance, but I think we can take this to an even higher level. For the last several months, I have been developing a comprehensive reorganization plan that will position RIT to reach significantly more alumni and friends, tell our story more broadly, and secure far more resources for the university. The first step in this plan was our divisional rebranding to University Advancement, which better reflects the breadth of our work to advance the mission of RIT.  We'll be executing the rest of the plan in 2021, including making several key, strategic hires.
We're also launching a new leadership annual giving program, Sentinel Society. Members will be able to support one of 18 different areas on campus with a five-year pledge of $1,000 or more annually. Together, these donors will play a pivotal role in providing unrestricted gifts to financial aid scholarships and RIT's other most pressing needs. I'm excited about the collective impact our donors will have on RIT by joining Sentinel, as well as the chance to provide them with a global network of RIT philanthropists for networking.
What are your goals for 2021?
I am looking forward to the reorganization and key hiring being completed and having the full University Advancement team assembled. Then, it is full speed ahead so that we stay on track to exceed the $1 billion Transforming RIT campaign goal. This year we will actively secure gifts for the Innovative Maker and Learning Complex (IMLC) and our performing arts initiatives, as well as the Saunders College expansion, just to name a few of the many transformative projects happening, none of which is possible without philanthropic support.
How has your background helped you lead RIT?
I was fortunate to have spent my most formative professional years at two top private research universities, Washington University in St. Louis and the University of Rochester. I learned much about higher education, advancement, and the power of philanthropy. That prepared me well for my first vice presidency at a liberal arts college, St. John Fisher College. It was there that I learned the complexities that come with being a chief advancement officer, but perhaps more importantly, I discovered how much I missed the research university setting. As I reflect on the last 15 years of my career, those three experiences prepared me for this role in a way that I never would have imagined when my career began over 20 years ago. This is an exciting new chapter for me at RIT.
Topics