Ursula Burns Inspires RIT Graduates to Strive for the 'Unimaginable'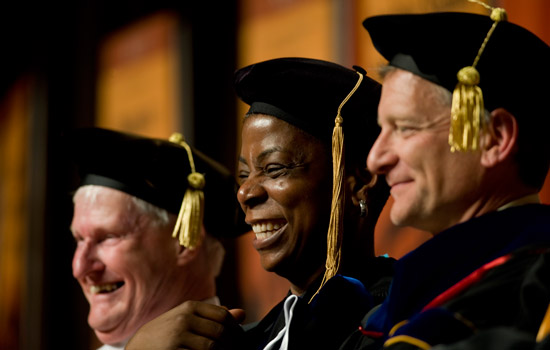 A. Sue Weisler
Ursula Burns, a veteran Xerox Corp. executive who will soon take over as the company's chief executive officer, says she is proof that the United States is "the greatest country on earth." She made that observation during an address to graduates at Rochester Institute of Technology on May 22.
Burns served as the keynote speaker for RIT's 124th annual commencement. Just one day prior, Xerox's board of directors appointed her CEO to replace Anne Mulcahy, who will retire from that post effective July 1. Burns has served as president of the company for two years, and she told graduates that her success is reason for each of them to dream big.
"When I was at my own commencement back in 1980, being CEO of Xerox was probably the farthest thing from my mind," she said. "And I can assure you that no one at my commencement was pointing at me and predicting that I would become a CEO. Women presidents of large global companies were non-existent. Black women presidents of large companies were unimaginable. The possibilities for each of you are also unimaginable."
RIT conferred degrees on more than 3,500 undergraduate and graduate students during two days of commencement activities.
In addition, the university marked a significant milestone by honoring the first graduates in its computing and information sciences doctoral program. Linwei Wang, from Hong Kong, and Erik Golen, from Dartmouth, Mass., received their doctorates during a graduation observance for RIT's B. Thomas Golisano College of Computing and Information Sciences.
RIT President Bill Destler awarded Burns an honorary doctor of humane letters degree at the ceremony. During his introduction, Destler commented on the important ties that bind her company with the university.
"Ms. Burns embodies the long-standing Xerox/RIT relationship," he remarked. "Her loyalty to her company mirrors the loyalty shared by these two Rochester leaders. Her commitment to youth sirens Xerox's dedication to education at all levels. Her devotion to diversity is echoed by both organizations' worldwide leadership of inclusion. Her perseverance and leadership are models for each RIT student and graduate to follow."
Burns encouraged RIT graduates to set their sights on "changing the world" by taking up an important cause, helping to create good jobs for others, or simply raising a family that espouses good values.
"Believe in something larger than yourself. Make a difference. Live your life so that at the end of your journey, you will know that your time here was well spent."
##