Venture Creations excels in the business of incubation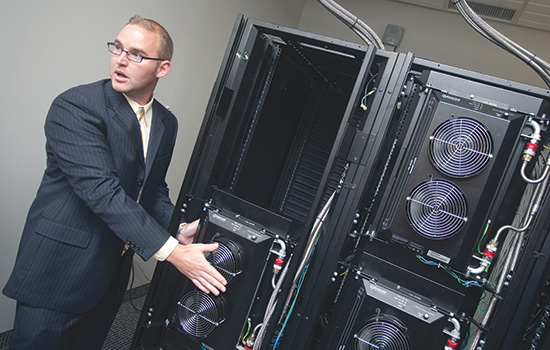 Kevin Fuller
After Tenrehte Technologies' prototype known as PicoWatt won for "hottest green technology" at the 2010 International Consumer Electronics Show in Las Vegas, the leadership team of Venture Creations asked Tenrehte to join RIT's business incubator.

Venture Creations works with start-up companies like Tenrehte to help them accelerate their products and commercialize technologies for entry into the marketplace. 

"We operate like a business," says Bill Jones, director of Venture Creations. "We mentor our 
companies to develop business plans and 
set and meet metrics. We are driven 
by performance."

Founded in 2009, Tenrehte developed the PicoWatt prototype, a smart-plug device that allows consumers to monitor and control the energy usage of the appliances they plug into it via the Internet. For example, the coffee pot 
and lights can be turned off remotely. Yet despite the international recognition PicoWatt was receiving, Tenrehte 
still needed to mature its business plan 
and appreciated the expertise and resources that Venture Creations offered.

"It was a no-brainer for us to join Venture Creations because of our ties to the university," says Tenrehte founder and CEO Jennifer Indovina '06, '07 (electrical engineering, MBA). "Four of our company's five employees are RIT alumni. The university has given us a lot of opportunities and being part of the incubator allows us to network with other entrepreneurs. 
We have many resources at our disposal."

Venture Creations works with companies that tie in closely to RIT's core technologies in imaging, sustainability and biomedical technology.

"We concentrate on high-growth companies that are past the proof-of-concept stage," Jones says. "The incubator leverages RIT's strength in the sustainability arena and works with a number of companies whose focus is clean energy."

Nearly half of the companies in Venture Creations are related to the field. A $1.5 million grant from the New York State Energy Research and Development Authority in 2008 launched the Clean Energy Incubator at RIT.

RIT won the Clean Energy program based on the university's assets that are unique to clean-energy innovation and business-related services, resources like the Center for Integrated Manufacturing Studies, the Golisano Institute for Sustainability and Venture Creations.

"The program was built on the merits of connecting dots within RIT to do more than the sum of its parts," says Mark Coleman, manager of technical development for Venture Creations' Clean Energy Incubator. "We put some of the horsepower of the technology side of the university behind testing, validating and developing proof-of-concept services for early-stage renewable clean energy and clean energy-efficiency companies. We married this with the fantastic merits of Venture Creations, which offers business-related services, like assessing the marketplace, developing business plans and matchmaking with investors."

Each year, several companies graduate from the incubator. OptiCool Technologies, which employs 12 people, is a recent graduate that moved into a new facility in Webster. RIT is among its clients. The company developed an innovative, energy-efficient data center cooling solution. The OptiCool Data Center Cooling Solution uses an oil-free, pumped refrigerant and a modular cooling-unit design that increases cooling capacity, decreases overall energy usage up to 95 percent and takes up significantly less floor space than traditional methods of cooling. The technology was installed in RIT's Center for Computational Relativity and Gravitation's Black Hole Lab to reduce energy use and noise levels while increasing the lab's computational power. In June, Rochester Gas & Electric presented RIT with a commercial and industrial rebate program check totaling nearly $32,000.

"This is a fantastic example of how a 
direct application from an incubator 
company like OptiCool Technologies 
supports the university's research agenda while reducing RIT's costs on energy," Coleman says. "It's a win-win." 

It's a win-win for Tenrehte Technologies' product, too. RIT has purchased several of its smart plugs to be tested out by faculty, staff and students. Tenrehte's clients span the globe from North America to Europe
 to Africa.

Adds Indovina: "We are passionate about our company having a sustained impact on the community. In order to do that, start-up companies have to grow organically."
Inside Venture Creations
24 companies in Venture Creations, located at 125 Tech Park Drive, Rochester

Nearly 50 percent of the companies in the incubator are focused in either clean-energy production or clean-energy efficiency

Since its creation in 2009, 
the Clean Energy Incubator 
has created 55 new jobs

To date, three companies have graduated from the Clean Energy Incubator: Sweetwater Energy (developed process to convert fermentable sugars into biofuel), Vnomics (invented software that monitors drivers' behavior and maintenance condition of vehicles) and OptiCool Technologies (developed data-center cooling technology) 

Clean Energy Incubator has helped its client companies raise more than $25 million 
in private capital investment

To learn more, go to 
www.rit.edu/vc