Video game design programs among top in the nation
Undergraduate program ranks No. 5, graduate program No. 7 in annual listing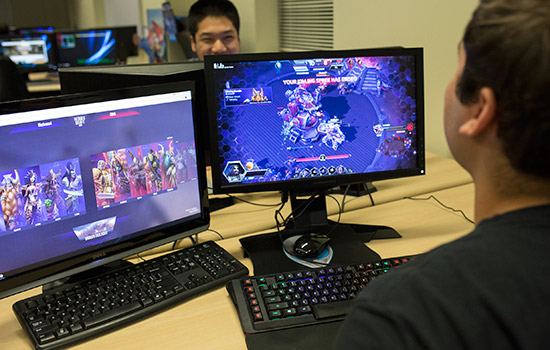 Rochester Institute of Technology boasts some of the top programs in the world to study game design in 2018, according to the latest international rankings from The Princeton Review.
RIT's game design and development program was ranked fifth at the undergraduate level and seventh at the graduate level. RIT's program is housed in the School of Interactive Games and Media (IGM) within the B. Thomas Golisano College of Computing and Information Sciences.
"We are honored that The Princeton Review once again recognized RIT's IGM programs as leaders in the academic games and media arena," said David Schwartz, director of RIT's School of Interactive Games and Media. "RIT's placement on this list shows that we are committed to providing a rich student experience in and out of the classroom and that our graduates are securing rewarding careers in the industry."
The Princeton Review chose the schools based on its 2017 survey of 150 institutions in the U.S., Canada and abroad offering game design degree programs or courses. The 40-question survey gathered data on everything from the schools' game design academic offerings and lab facilities to their graduates' starting salaries and career achievements.
The full lists, which name the "Top 50" undergraduate and "Top 25" graduate schools, are posted at Top Schools for Game Design 2018. There, users can also get information on The Princeton Review's methodology for this project and its detailed profiles of the schools with guidance for applicants on their programs, admission requirements and financial aid.
The Princeton Review, one of the nation's best known educational services companies, teamed up with PC Gamer to report the lists of "Top 50" undergraduate and "Top 25" graduate schools for gaming 2018. The ninth-annual list is published in the March 27 issue of PC Gamer magazine.
The Princeton Review survey also found that students enrolled in the top schools gain valuable professional experience while in school. According to school administrators, 88 percent of their undergrad and/or graduate game design students that graduated in their 2017 classes developed actionable plans to launch games while in school. Moreover, 52 percent of undergrads and 75 percent of grad students at these school programs worked on games that were shipped before they graduated.
RIT has been a pioneer in the field of video game design and development education. IGM students work with RIT's Center for Media, Arts, Games, Interaction and Creativity (MAGIC), an on-campus research laboratory and production studio that helps students bring ideas from prototype to commercial production in the marketplace. Graduates of RIT's game design and development programs go on to work at companies including Microsoft, Rockstar Games, Sony Interactive Entertainment, Valve Corp. and Walt Disney Interactive.
RIT's Bachelor of Science in game design and development provides a broad-based undergraduate education in computing while exposing students to the breadth of game design and development processes. Students are required to complete coursework in the liberal arts, social sciences and the laboratory sciences.
Students who pursue an RIT's master's degree in game design and development focus on the technical roots in the computing and information sciences disciplines while simultaneously covering the breadth of the development landscape through involvement in topics including computer graphics, game engines, interactive narrative and game world design. The degree culminates with a capstone project in which students create their own games.