Video game event raises funds and awareness
Video game charity event to raise funds and awareness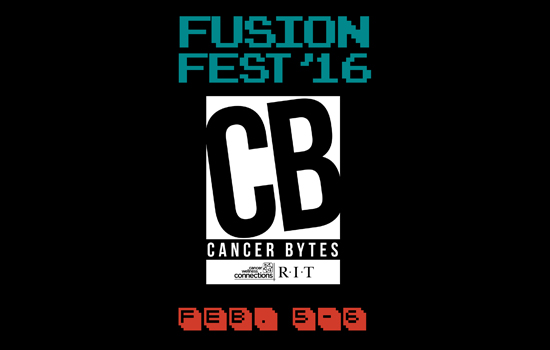 Student members of Rochester Institute of Technology's Electronic Gaming Society are "powering up" with Cancer Wellness Connections to present Fusion Fest '16—a 24-hour video-game LAN party taking place Feb. 5–6 at RIT and virtually via live-streaming. The marathon video game playing session is designed as a fundraising and awareness activity for the local charity.
While electronic gaming can certainly be an entertaining way to pass the time, gaming has also been proven as an effective form of pain distraction and a way to connect with others battling diseases.
"RIT is proud to partner with Cancer Wellness Connections for this event designed to raise awareness for video games as a diversionary activity for people with cancer and to raise money for cancer organizations," said Andrew Phelps, founder and director of RIT's Center for Media, Arts, Games, Interaction and Creativity. "We are grateful for the opportunity to support the tremendous mission of this organization and are fortunate that our students see the value in 'gaming for good.'"
All proceeds from the event will directly benefit Cancer Wellness Connections.
"After the success of last year's Fusion Fest event, we decided to expand wellness offerings as part of the LAN party," said Alejandro Rivero, a third-year networking and system administration student and president of EGS. "While the LAN party may be a big crowd pleaser, this year we're integrating wellness presentations and additional support from the community like RIT Student Government and RIT's MAGIC Center. We want to continue to raise awareness and funds for cancer wellness and gaming for a good cause speaks to a lot of people."
About the LAN Party
A LAN party allows attendees to connect their computers over a local area network in order to play tournaments in some of today's most popular multiplayer video games. The charity LAN party begins at 7 p.m. Feb. 5 and runs until 7 p.m. Feb. 6 in RIT's Student Alumni Union Al Davis Room. Supporters can sponsor gamers and donate at https://secure.qgiv.com/event/821333/. Gamers can also participate with Fusion Fest '16 remotely by live-streaming the event at www.twitch.tv/EGS_RIT.
The on-campus event is for anyone 18 and older and costs $11 for EGS members and $16 for public. For more information and to order tickets online, go to egsrit.com/winter or on Facebook at http://www.facebook.com/egsrit.
About Cancer Wellness Connections
Founded in 2006, Cancer Wellness Connections delivers free services to more than 8,000 people each year at four different chemotherapy centers. When battling cancer through chemotherapy, many people experience unpleasant side effects and face a treatment program that is emotionally, mentally and physically taxing. Cancer Wellness volunteers provide diversionary activities and "bright moments" to help patients have a more positive experience on the way to wellness.
Topics