Video game therapy helps students manage real-world stress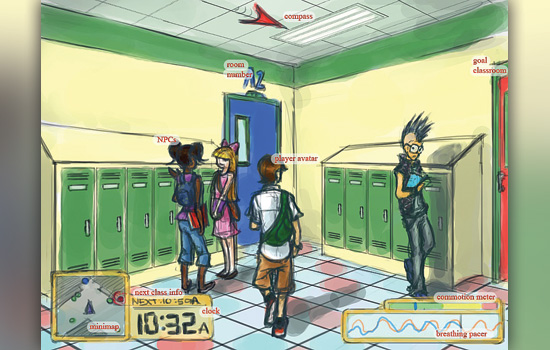 Submitted image
To the patient, it's a video game. To the therapist, it's a tool for helping and learning. To the health-care researcher, it's a consistent protocol for community-based clinical trials.
A team of students and faculty from RIT and St. John Fisher College is revolutionizing the experience of therapy by designing and building a groundbreaking computer game that helps therapy-seeking young people improve their everyday skills in self-control.
"The game will help patients learn and hone self-care skills that they need in real life," says Laurence Sugarman, director of the Center for Applied Psychophysiology and Self-Regulation in RIT's College of Health Sciences and Technology.
RIT game design and development students Ivy Ngo, Kenneth Stewart and John McDonald work under the supervision of Sugarman; Stephen Jacobs, associate professor of RIT's School of Interactive Games and Media; and Robert Rice, assistant professor at St. John Fisher College's Mental Health Counseling Program.
"The project is great because it gives us a chance to work with people and equipment someone in our field rarely has the chance to work with," adds McDonald.
The game starts with assessments that help the players learn about their problems. The players must move through several levels in a "school setting" and learn how to monitor their physiological manifestations of anxiety and stress, or what is commonly called their "fight or flight" response. Players go through the game completing tasks while monitoring and controlling stressors that they identify as problems. They even cope with bullies.
"The game design students have completed the avatar design in the game," says Sugarman. "Not only can the patient individually create themselves, they also literally characterize their problem and a solution, as two other characters that float over the avatar's shoulders."
Sugarman says games involving psychophysiological health are newly emerging, yet none combine aspects of assessment, cognitive behavioral therapy and biofeedback in a creative and customizable setting. This game allows a unique extension of the therapist's role in a fun, engaging platform for therapeutic change, while collecting psychophysiological data. Even more, it brings the young person's virtual school world to the office as a place to learn change.
The development team is completing the prototype for clinical trials this fall, prior to developing it for a broader use. Patients will test the game to see how playable it really is.
Initial funding for the project comes from an Accelerated Research Program grant from RIT's Office of the Vice President for Research.
"Mind Media B.V. has also generously loaned, at no cost, the NeXus-10 Biofeedback hardware and Biotrace software used in this project," says Sugarman.
Mind Media B.V., located in Roermond-Herten, Netherlands, specializes in physiological monitoring and feedback products and solutions for researchers, clinicians and health-care professionals.