Video games featured at PAX East Indie showcase
Strong presence of successful RIT graduates solidifies local impact on national gaming industry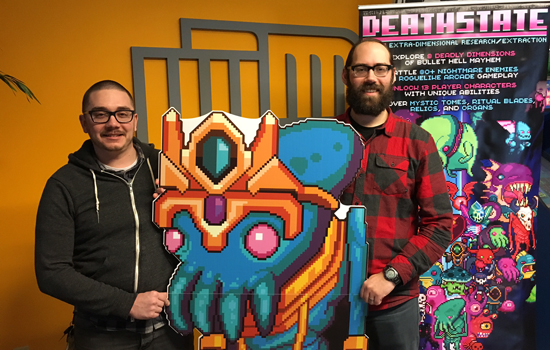 Three video games with ties to Rochester Institute of Technology were featured at the national PAX East Indie Showcase April 22–24, in Boston.
PAX East, one of North America's largest gaming events, began in 2010 and allows video game publishers and developers to debut unreleased games and hardware on an exhibition floor, and users to interactively experience video game tournaments, handheld gaming lounges, concerts, speakers and panel discussions, and table top games.
The inclusion of these games in the PAX East Indie MEGABOOTH is significant according to Jennifer Hinton, chief communications officer for RIT's MAGIC Spell Studios. She cites RIT's recent designation as one of three Digital Gaming Hubs in New York state by Empire State Development as evidence that RIT and its graduates are making an impact in the industry. The goal is to provide resources and mentoring to encourage students and entrepreneurs to enter the growing gaming industry.
"PAX East provides us with the incredible platform to highlight and share the significant talent of the growing games community in Rochester," she said. "We're excited to share these stories with others and show them that there has never been a better or more exciting time to be making games in Rochester. We are thrilled to be at the center of these efforts and be Rochester's voice and champion for our community."
Accepted into the Indie MEGABOOTH were:
Deathstate is an arcade-style action game set in a bizarre world of dimensional exploration. Players become unique characters trying to discover the fate of Professor Elinberg, who has opened a portal to the void. Deathstate was developed by Workinman, a Rochester, N.Y.-based company founded by RIT graduate Jason Arena. Eighty-five percent of Workinman's employees are RIT graduates. Deathstate is available on Steam, the world's largest online game distribution service for PC and Mac.
Wulverblade, which will soon be available on Xbox One, PlayStation 4 and Steam, is a spiritual successor set in ancient Roman Britain. A deep and robust classically inspired combat system empowers the player as they "hack and slash" their way through eight levels. The player is Caradoc, a Caledonian tribal warrior and guardian of the most northerly tribes of Britannia. The game was developed by Michael Heald, in partnership with Darkwind Media Ltd. Darkwind Media is a game development studio and consulting agency founded in 2007 by RIT information technology graduates Colin Doody and Matthew Mikuszewski, and software engineering graduates Brian Johnstone and Scott Flynn.

Super Daryl Deluxe—Dan and Gary Games LLC founders Dan Plate, an RIT student, and Gary Porter, a recent RIT graduate, have already won several awards for Super Daryl Deluxe including first place in the Visual Quality category at the 2015 Intel University Games Showcase and first place in the 2015 United States Imagine Cup, an international competition sponsored by Microsoft. In addition, both Plate and Porter have received significant mentoring and support from MAGIC Spell Studios.
"The relationship between RIT and gaming companies is invaluable," said Jason Arena, CEO of Workinman and an RIT graduate. "It's a perfect storm for creating game developers and great game development companies who are able to compete at the highest level in an incredibly competitive industry."
Topics