February 14, 2013
by David Strauss
Vignelli chair inspires typeface soap dish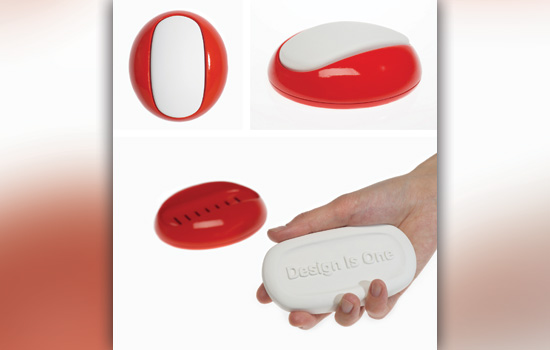 Elizabeth Lamark/RIT Production Services
I designed the Bodoni Soap Dish in a special-course project in conjunction with the Vignelli Center for Design Studies and the industrial design graduate 
program. I was assigned a Massimo Vignelli-designed artifact and was given the opportunity to study the item in the center's archive. The artifact was Vignelli's Soap Bubble Chair model and mold. I had to develop a clear metric for assessing the chair's success in its original context. It was then my responsibility to use the same metric for developing a new object, adjusted in order to accommodate today's landscape of 
conditions and habits.

The design of the Bodoni Soap Dish includes a 
soap-dish holder and suds tray, along with a custom-shaped bar of soap to fit inside. My design makes 
a connection to the process, scale and naming conventions that were used to produce the Soap Bubble Chair model and mold, by literally creating a chair for soap. Following the teachings of the Vignelli Canon, I based the overall shape around the letter "O" of the Bodoni typeface, a noted favorite of the Vignellis. The soap 
itself is custom produced to fit inside the dish and forms the typographic counter space of the letter "O." The soap also includes the Vignelli quote "Design Is One" on the reverse, acknowledging his famous motto. The newly designed soap and soap dish were meant 
to be a functional item, but also to reveal the fundamentals of Vignelli's teachings, along with the rarely seen inspirational objects located in the archive.

The final prototype of the soap dish was 3-D printed in ABS plastic and has been accepted into the Vignelli Archive collection to inspire future RIT students. 
To learn more, go to http://activatingthearchive.rit.edu.