Weekend plans up in the air? Perfect for the annual RIT Spring Juggle-In
42nd annual Spring Juggle-In features free workshops for beginners to pros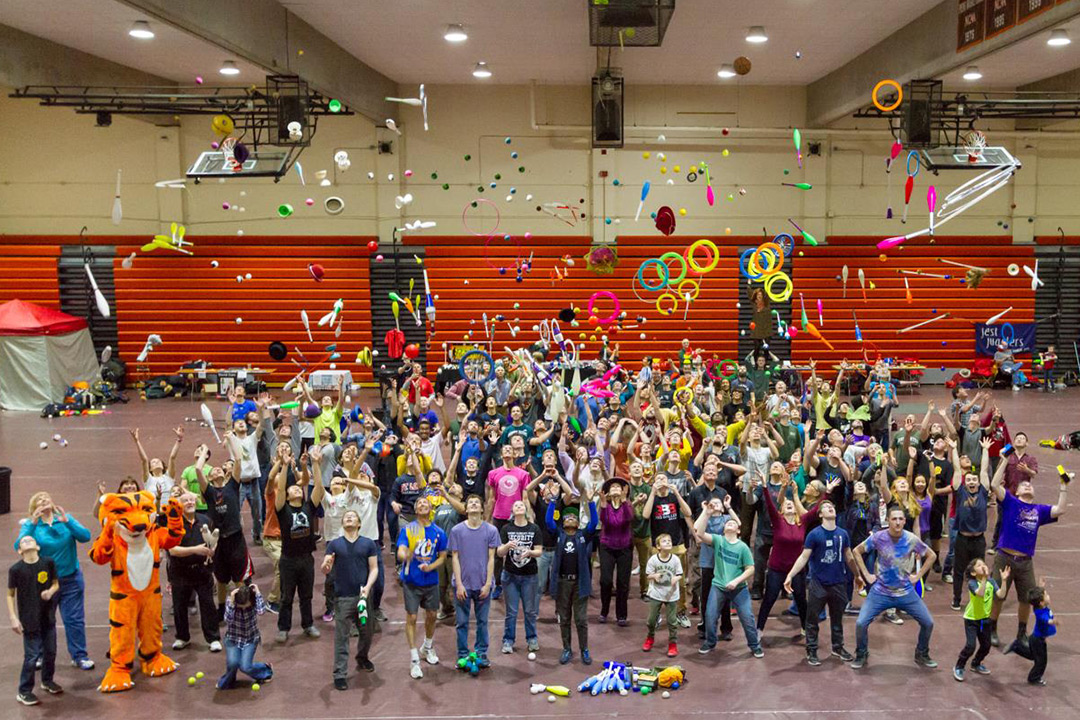 Jason Paul
One of the longest running annual juggling festivals in North America, the RIT Spring Juggle-In celebrates its 42nd year this weekend with the theme, "Hitchhiker's Guide to Juggling." More than 500 attendees are expected on the campus of Rochester Institute of Technology.
The public is invited to attend to juggle, learn to juggle, or just watch during the three days of events, which begin at 7 p.m. Friday in Clark Gym with workshops. At 9 p.m. Friday, The Big Open provides a stage for jugglers to show off their skills to an audience.
 "This is open to everyone, regardless of age or skill level," said Lukas Vacula, vice president of the RIT Juggling Club, which is organzing the festival. "People don't need to know anything about juggling."
The free activities and workshops continue Saturday in Clark Gym and the Saturday Morning Showcase – billed as a "free, fun-filled, family-friendly, festival showcase" – is set for 10:30 a.m., followed by a free, half-hour learn-to-juggle workshop.
There are also free workshops for more advanced jugglers.
"With juggling, unicycling, acrobalance and hooping, it's more like going to play backstage with the world's greatest show," said Jeff Peden, a co-coordinator of the event.
The highlight of the festival is typically the Saturday night show, scheduled for 7:30 p.m. in Ingle Auditorium, with several performers who walk tiptoe on wine bottles, hoop choreography that intertwines two people, juggle nine balls effortlessly, and balance stacks of glasses on a stick held by their teeth.
"The quality of our acts over the years often results in sold-out shows," Peden said. "We have a large turnout due to our reputation, with people attending from all over."
This year's featured artists include "Master of Modern Vaudeville" Thom Wall, a former Cirque du Soleil performer who has won multiple awards from the International Juggling Association, and his wife, Chloe Somers Wall, who has performed in international circuses and cruises.
Also appearing is Matan Presberg, 22, a Rochester native who learned to juggle when he was 6. Today, he's a board member of the International Juggling Association and is known for his elbow catches and juggling a large quantity of balls at once.
Tickets for the Saturday evening show are free for RIT students, $12 for RIT faculty, staff and alumni, and $18 for the public, and are available during the day or through RIT Tickets.
A portion of the proceeds will be donated to the Dystonia Medical Research Foundation.
The fest concludes Sunday with more free workshops, from 10 a.m. to 3 p.m. in Clark Gym.
For additional information, go to the festival schedule, visit RITjuggle.blogspot.com, or contact RITjuggle@gmail.com.