Welcome, Dr. Munson!
RIT turning out Wednesday to greet its new president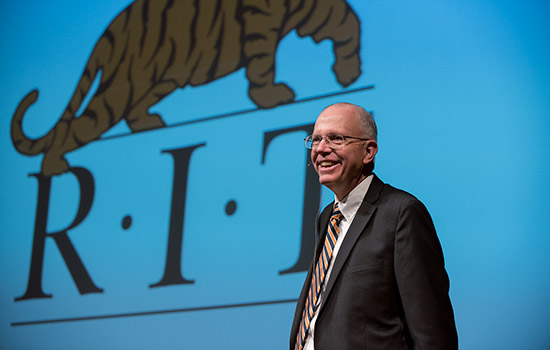 A. Sue Weisler
The RIT community will be out in force Wednesday, July 5, to give a warm welcome to its 10th president, David C. Munson Jr.
When Munson arrives on campus at 8:30 a.m., he will be greeted by a welcome line that will extend along the walkway from the parking lot to his office in the George Eastman Hall. Refreshments will be served in the building lobby until 10 a.m., and people are invited to come meet the new president.
Munson, who was named to the post earlier this year after a nationwide search, comes to RIT with 38 years of experience in higher education, which includes serving as the Robert J. Vlasic Dean of Engineering at Michigan from 2006 to 2016, where he served two five-year terms, the maximum allowed by U-M. Michigan Engineering is considered one of the top engineering schools in the world. Eight of its academic departments are ranked in the nation's top 10.
Munson earned his BS degree in electrical engineering (with distinction) from the University of Delaware in 1975. He earned an MS and MA in electrical engineering from Princeton in 1977, followed by a Ph.D. in electrical engineering in 1979, also from Princeton.
As RIT president, Munson will lead one of the nation's top research and career-oriented universities featuring 18,700 students from all 50 states and more than 100 foreign countries, 121,000 alumni, $73 million in sponsored research and an endowment of more than $750 million.