Workplace Safety Plan in response to COVID-19 available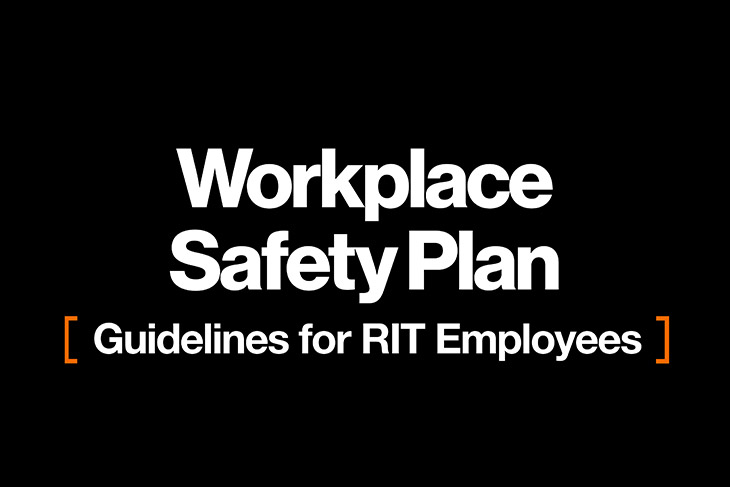 Dear RIT Community,
Today, RIT is unveiling its "Workplace Safety Plan in Response to the COVID-19 Pandemic." 
The plan, which focuses on the health and safety of our faculty, staff, student employees, visitors, and other invited guests, is aligned with applicable local, state, and federal laws. Highlights include guidelines on:
Symptom monitoring, identifying and managing positive COVID-19 cases, contact tracing, and medical and mental health services available;
Maintaining appropriate physical distancing, and wearing face masks or coverings when distancing is not possible;
Reducing the density of individuals on the RIT campus, including guidelines on determining when and how employees will work on campus versus work remotely, and a form employees can submit to file for needed accommodations;
Personal safety, including recommended hygiene practices;
University practices for regular cleaning and disinfection;
Expectations for faculty, staff, student employees, and visitors to comply with these provisions, and consequences for failure to comply.
Work is currently underway (e.g., installing air ionizers, shields, more hand sanitizing stations) to ensure that employees return to campus with the physical safeguards required of the plan in place.
As a result, employees that have been working remotely should continue to do so until notified by their managers and/or their Site Safety monitor, that their workplace has been adapted for use in compliance with the plan.
As our knowledge and understanding of the pandemic continues to evolve, and we work through guidelines put forth for colleges and universities under "New York Forward" relating to classroom instruction, this Workplace Safety Plan will likely be modified. 
For the latest policies and procedures, please go to the dedicated Coronavirus website.
Meanwhile, our Fall Planning Task Force groups continue to meet and further develop plans for our fall reopening, with classes starting on Aug. 19th.
In the coming days and weeks ahead, we expect to communicate more information on a variety of topics including a "Student Safety Plan," class schedules, campus move-in, among others. We know you have many questions, and we appreciate your patience while we work through the details.
I want to thank the university personnel who helped in developing the guidelines in our plan. We look forward to moving ahead with our accelerated fall semester schedule, and providing our community with the best academic experience possible during these challenging times. 
David Munson, President
RIT Fall Planning Task Force