World Remanufacturing Conference convenes at RIT
Event in partnership with Remanufacturing Industries Council draws nearly 150 to campus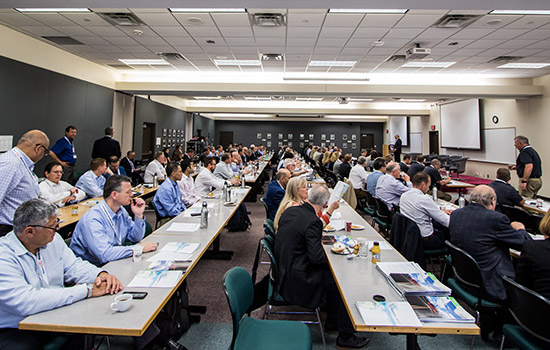 Alex Tong
Nearly 150 industry leaders from around the world gathered at Rochester Institute of Technology June 21-22 for the RIC-RIT World Remanufacturing Conference, receiving the latest briefings on best practices, emerging trends and issues of critical importance to the manufacturing industry.
RIT hosted the event in partnership with the Remanufacturing Industries Council, a strategic alliance of businesses and academic institutions that works across industry sectors to support the entire remanufacturing industry through a combination of collaboration, education, advocacy and research.
"RIT has been the leader in remanufacturing research for nearly three decades," said Nabil Nasr, associate provost and director of RIT's Golisano Institute for Sustainability. "This conference is truly historic for the industry since remanufacturing is undergoing some very exciting changes."
After welcoming remarks by Nasr, the conference featured a keynote speech by Sam Allen, CEO of Moline, Ill.-based John Deere, along with discussions and roundtables led by remanufacturing experts, including Jack Stack, CEO and founder of SRC Holdings Corp.
During the two-day conference, attendees learned about the latest key areas of change in the industry, including:
The new RIT-led Reducing Embodied-Energy and Decreasing Emissions (REMADE) Institute, a Manufacturing USA initiative involving a public-private partnership that will advance promising remanufacturing technologies to drive down the cost of technologies essential to reuse, recycle and remanufacture materials.
The "Remanufacturing Roadmap," a recently completed government-funded report focusing on strategies to improve "reman" capabilities and competitiveness.
A new American National Standards Institute (ANSI) standard for remanufacturing, which will help remanufactured products maintain consistency and high-quality.
"I believe we are about to embark on the most dynamic times in the history of remanufacturing," said Bill Davies, founder of Albany, N.Y.-based Davies Office and RIC chairman. His company, Davies Office, has furnished much of the remanufactured tables, chairs and cabinets inside RIT's world-class Golisano Institute for Sustainability. As part of RIT's commitment to sustainability, GIS undertakes world-class education and applied research in sustainability challenges and innovation in industrial systems.
Remanufacturing is an industrial process that restores worn and discarded products to a like-new condition. The restoration is a high-quality process through which products are systemically disassembled, cleaned and inspected for wear. Damaged components are replaced, feature updates can be incorporated, and the product is reassembled. Reliability testing is performed to ensure performance meets specifications, a measure that is further enhanced today with the new ANSI standard.
Remanufacturing is being increasingly recognized by companies as a necessary step toward a sustainable "circular economy" and an efficient method for capturing a significant percentage of the materials and the labor, energy and manufacturing processes embodied in original products.
Topics