NTID AlumniNews
RIT/NTID Alumni Entrepreneurs Enjoy the Science of Coffee
Owners of Wake Coffee Roasters focus on quality, accessibility in successful online, wholesale, and retail business
Marissa Woodruff
Christina Rizzetta-Satterly and Alec Satterly, a couple who met as students at Rochester Institute of Technology's National Technical Institute for the Deaf launched Wake Coffee Roasters in 2017, a small-batch coffee roasting e-commerce company that sells and ships coffee to consumers online. They later expanded the business to provide high-quality coffee to retailers, restaurants, grocery stores, and offices.
A few years later, the pair opened a coffee shop in Ambler, Pennsylvania, where customers can come in to relax, socialize, and grab a cup of coffee. The shop also offers food and other beverage options.
 
Rizzetta-Satterly, a 2016 graduate of RIT's School of Individualized Study with a background in science, had a full-time job after college, but decided to leave it to focus on running the coffee business. 
 
"I had been working a 9-to-5 job, but I realized that I enjoy working independently," Rizzetta-Satterly said. "I decided to take the risk of leaving my full-time job to work on coffee. I had the opportunity to buy the private label coffee, start building a shop, and learn how to roast coffee, which was very similar to my major in science. I feel like roasting coffee is another science for me."
Prior to establishing the coffee business, Satterly, a native of Oreland, Pennsylvania, was a promising entrepreneurial student eager to develop an innovative product and service to enhance consumers' lives. In 2014, Alec had participated and won first place in "The Next Big Idea" an annual innovation competition hosted by RIT/NTID and sponsored by the ZRVS. 
Satterly graduated from RIT's Saunders College of Business with a bachelor's degree in management information systems and currently works full-time at Untapped, a recruiting company that helps businesses find diverse talents.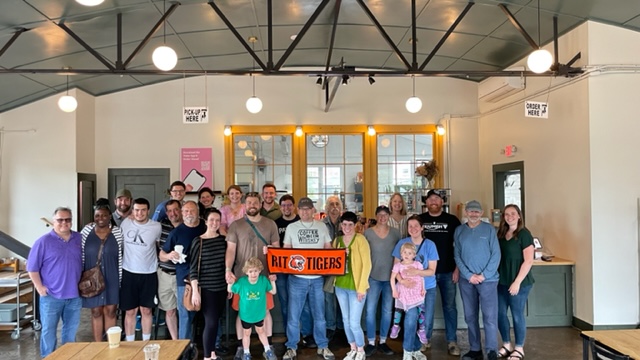 In May 2022, the NTID Alumni Relations Office hosted an alumni gathering at Wake Coffee. About 20 alumni attended the event, and Rizzetta-Satterly led them on tour and demonstrated the process for making coffee using whole beans.
 
"The NTID Alumni Relations Office was so thrilled to host an alumni gathering at an alumni and deaf-owned business," said Marissa Woodruff, assistant director of NTID alumni relations. "Everyone enjoyed socializing and learning how the coffee was made. It was a fun event." 
In 2019, RIT/NTID President Gerry Buckley visited Wake Coffee, and last year, staff from the NTID Dyer Arts Center met with Rizzetta-Satterly to discuss possible collaborations. 
 "I enjoy seeing everyone come in, socialize, and feel comfortable at Wake Coffee," said Rizzetta-Satterly. "It's an accessible business for all people.  Everyone is welcome here."
To learn more about Wake Coffee Roasters and view their products and services, visit their website.