NTID-Supported Athletes at RIT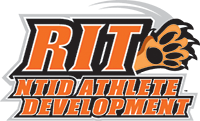 The RIT/NTID Athlete Development Program strives to help student-athletes find their inner greatness on and off the field, in and out of the classroom, and as high-character individuals in the community.
The Program provides support and training to improve quality of deaf and hard-of-hearing student-athletes' experience as key members of their respective athletic programs.
The Program's vision is to work towards helping deaf and hard-of-hearing student-athletes develop to see improvements in academic, athletic and personal success yearly.
RIT/NTID Varsity Athlete Rosters
RIT/NTID Athlete Blog
You'll find great suggestions, insights, and training tips in the RIT/NTID Athlete Development blog entries.
Forms and Information for RIT/NTID Varsity Athletes
Athlete Clearance Information
This information will help students understand the clearance process required to participate in RIT sports. Make sure to read the appropriate Packet to get important information and instructions.
Returning Students
New Students
Academic Support & Access Services
Academic Support
rit.edu/ntid/support-services/other-colleges
Access Services
The information in these videos will help students understand and navigate the myAccess system in order to make the proper requests for access services.