NCCC Success Story
Mechanical Engineering Technology
Mechanical/Process Engineer Intern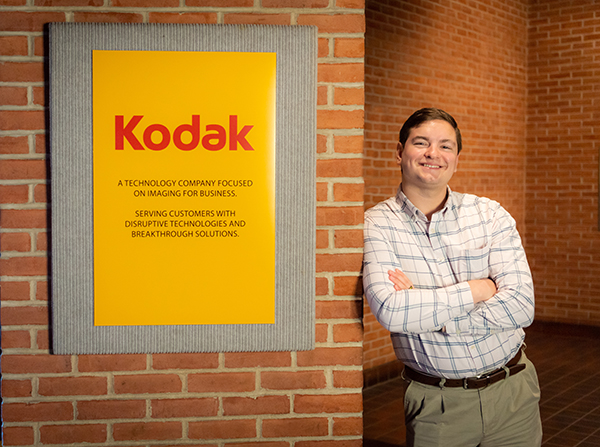 Where is your hometown?
I am from Streamwood IL, about an hour northwest of Chicago.
What was your degree program at RIT/NTID?
I graduated from NTID with an Associates in Applied Science in Applied Mechanical Technology, and transferred into RIT to pursue a Bachelors of Science in Mechanical Engineering Technology.
What was your graduation date from RIT/NTID?
I graduated from RIT/NTID at the end of spring 2022, but was already accepted and taking classes towards my BS at the time. The anticipated graduation date for my BS is the end of spring 2024.
Where are you currently employed for your co-op or internship, and what is your job title?
I am currently employed by Eastman Kodak Company for a double block (summer/fall) co-op as a Mechanical/Process Engineer Intern.
What are your work responsibilities?
My primary responsibilities within this position are to provide mechanical/process engineering support on projects and day-to-day operations within the 35mm film department. I frequently perform troubleshooting and provide engineering input on short-term and long-term projects, usually aimed at improving existing manufacturing processes or creating new processes to address challenges in production. I am often included in the projects of the senior engineers for data collection/analysis, 3D modeling, and collaborating to develop large-scale projects. At the moment, I am helping with a $4-million industrial vacuum system install that will provide vacuum power to over 1 million sq. ft of production and packaging lines.
How does your co-op or internship relate to your degree from RIT/NTID?
My RIT/NTID classes taught me the basics of material properties and where to locate accredited information for engineering topics. I also developed the foundation for 3D modeling and understanding of manufacturing processes through my NETS courses. These classes have taught me skills that I have used regularly in my daily tasks and projects.
Do you have any advice for any current students attending RIT/NTID?
My advice to current students of RIT/NTID is to network as soon as possible for work opportunities that are relevant to your interests. If you have a class that you enjoy, ask that professor to stay in contact, have them recommend co-op and job opportunities, and have them send out your resume on your behalf to their connections within the field. You are more likely to find a job or co-op that fits your interests by using personal recommendations or personal connections than with any other networking strategy.