NCCC Success Story
Engineering Studies - MECE
Turbine Design and Services Engineer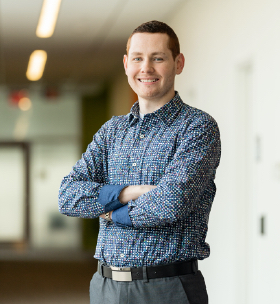 Where is your hometown?
York, PA
What is your degree program?
MECE - BS
What is your graduation date from RIT/NTID?
Summer 2020
Where is your place of employment?
GE Aviation
What is your job title?
GE90 & GP7200 High Pressure Turbine Design and Services Engineer
What are your work responsibilities?
Design a better GP7200 high pressure turbine nozzle insert and follow product development cycle, improving fittings from easing bends and reducing interference mates, cutting manufacturing cost of making the insert by around $300 each, doing mechanical analyses on it to verify engineering requirements, and presenting to executives and doing change in design and FAA paperwork to approve the design and release.
Solve supply crises with time sensitivity, communicating with shop people and suppliers inside and outside of the US, staying in the office and/or going to the shops inside and outside of GE Aviation for investigations, and solving them with one or more solutions.
Disposition material review board and departure record and recovered millions of dollars scrapped components, determining acceptability by benchmarking against serviceability and repairability limits, performing assembly stack-ups, mechanical analyses and part functions, and writing substantiations and design record book.
Perform and support root cause investigation of assembly problems, wear, and distress progressions on components, evaluations drawing requirements, assembly instructions, engine operating parameters, engine manuals and material review board history, performing visual and dimensional inspections and measurements on the parts, performing 3D Finite Element Analyses using Ansys performing statistical data analysis, and documenting findings about the root causes.
How does your career relate to your degree from RIT/NTID?
RIT/NTID has helped me with developing my communication, writing and engineering skills to meet industry standards, exceed their expectations, and succeed in getting a position with GE Aviation.
Do you have any advice for any current students attending RIT/NTID?
Do very well in school, read as much as you can, work on communication and technical writing skills, and stay on top of your assignments. You will be rewarded and do very well in the industry.